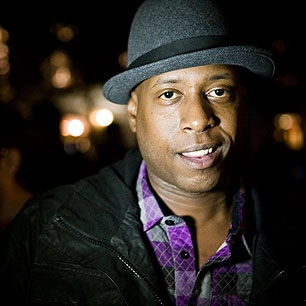 This week, we're celebrating the release of "Fatherhood: Rising To the Ultimate Challenge," the new book by NBA veteran Etan Thomas, written with MyBrownBaby contributor Nick Chiles, and we thought it only fitting that, as we sing the book's praises, we show you how amazing it is. We have to be honest: it was no easy task to choose only one essay to excerpt from this work, which brings together a chorus of voices—pro athletes like Kareem Abdul-Jabbar, Tony Hawk, Yao Ming and Kevin Durant, activists like Roland Martin, Kevin Powell and Ed Gordon, and artists like Talib Kweli, Ice Cube, Lamman Rucker and Chuck D—to weigh in on the importance of being a father, having a father and learning how to be great, even when your father is not around. The stories are inspiring and deeply personal and do an incredible job of sending the message that by standing up and taking an active role as fathers, men find more joy in their lives and pass on to the next generation a legacy of love, wisdom, responsibility and strength. Of course, while we're sharing an excerpt today, we invite you to find out for yourself how beautiful, special and powerful "Fatherhood" is by purchasing a copy for yourself and someone you love. Buy "Fatherhood: Rising to the Ultimate Challenge" here.
In the meantime, enjoy this story from rapper Talib Kweli, who eloquently discusses his love and pride for his children, and the fateful decision he made when he put his career ahead of his child—a decision he still regrets:
When my son was two years old and my wife was pregnant with my daughter, I got a memorable lesson in prioritizing. I was doing a show in Baltimore with Mos Def, promoting the Black Star album, and I had been debating with myself whether I should go to the show, because of how far along my wife was with the pregnancy. I decided to do the show, and right as I was going onstage, she was going into labor. So I did my part, left the show a little early, hopped in a Baltimore cab and said, "Take me to Brooklyn." The cabdriver looked at me like I was crazy, because Brooklyn was nearly two hundred miles away, but he took me. Unfortunately, I missed the birth. That hurt me. It was a lesson in prioritizing for me, because, in the grand scheme of things, that show was nowhere near as important as the birth of my daughter. To this day, I wish that I had made a different decision. I wrote a song with Mos Def called "Joy" that was a tribute to my daughter for missing that moment.

I am thankful to my father, Perry Greene, for showing me how to convey the message of love to my kids. When my parents were together, and even after they split up, when I was just entering my teenage years, my pops was always very good at saying, "Son, I love you." Of course, I didn't recognize the power of those words coming from my father until I grew much older, but I did recognize at a young age that a lot of the other kids whose parents weren't around or who just simply didn't get that from their fathers would pay attention or notice when my father was affectionate with me. My father showing me that love affected me in such a positive way. He was focused on independence and strength and knowledge. He would tell me that he loved me and respected me. That was really big for me growing up. My father treated me like a person and not like a second class citizen or someone who was beneath him. He treated me like I mattered… I knew without a doubt that my parents loved and respected me, so I felt no need to rebel against them. That is the relationship I want to have with my children. I want them to know that no matter what mistakes they make, no matter if they choose to become a rapper, ballplayer, singer, doctor, lawyer, scientist, teacher or whatever their hearts desire, I want them to know that their daddy will always love them, respect them and have their back.
Don't miss out on this groundbreaking tome of powerful voices—stories of love, heartbreak, courage and wisdom from men who value the beauty  of fatherhood. Buy a copy of "Fatherhood: Rising to the Ultimate Challenge" here.
 RELATED POSTS:
1. Welcome to "Fatherhood" Week on MyBrownBaby!
2. A Special MyBrownBaby Love Letter To Black Fathers Getting It Right
3. On Black Fathers, the African American Image and MyBrownBaby Etiquette
Mom. NY Times bestselling author. Pop culture ninja. Unapologetic lover of shoes, bacon and babies. Nice with the verbs. Founder of the top black parenting website, MyBrownBaby.