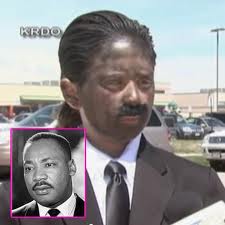 By NICK CHILES
Offering continued evidence that this nation is badly in need of some serious discussions about race, history and stereotyping, a white second-grader and his parents in Colorado finds themselves in the midst of a roiling controversy because of his decision to portray Dr. Martin Luther King Jr.—the historical figure that was assigned to him by the teacher— on his class's "wax museum day." Most of the outrage has stemmed from the family's decision to cover the boy's face in black paint to complete the portrayal. Now the family of the little boy, Sean King, is asking school officials to apologize to him for being "mean" to him when they told him he had to wash his face.
So many of the issues that we address on these MyBrownBaby pages in the end are about poor judgment and degrees. When it comes to parenting, it seems that most everything we do comes down to judgment and degrees: When your kid screws up, it might be okay to send him to his room, maybe in some households to swat his behind or make him stand in the corner—but punching him the face with a balled-up fist, making him sleep outside or denying him a day's worth of meals would all be considered punishment that is many degrees too far. A parent who used those methods would rightly be accused of exercising poor judgment. The parenting decisions fly at us at a rapid pace. Some of them we get right; some we get wrong. Sometimes, our judgment feels like the only tool we have at our disposal.
So when a white child, given the assignment to portray King at a school function, decides to put on the blackface, it would be in poor judgment for the school to react as if the little boy had come into school covered in a KKK robe. Instead, it would be a fabulous opportunity for school officials to engage the entire class—and apparently the parents, too—in the history of racial stereotyping in the U.S., and how whites used blackface as a way of entertaining each other with cruel, racist depictions of black people. That's what's called a teachable moment. It wouldn't even take that long to do. Everyone would walk away better educated about the evils of racism and you could be sure no white kid in that school would ever wear blackface again.
But assuming that the second grader is strutting into the Colorado Springs school with the intent of using his costume to offend African Americans just seems to be a ridiculously wrong-headed approach—particularly since it was the school that assigned him MLK in the first place. It's all about judgment. Matters of degree. Common sense. In an interview with a local television station, the little boy said he didn't understand why everyone had been so mean.
"I like black people. It's just a costume and I don't want to insult anybody," the boy said.
He said he likes black people. I take the second grader at his word. I just wish school officials would learn how to use these situations to actually TEACH, rather than to overreact. Black people are sophisticated enough to understand the difference. If they had handled this the way it should have been handled, we wouldn't have ever heard of Sean King and "wax museum day" at Meridian Ranch Elementary. It would have been another valuable lesson for a class of second graders—and their parents. Then they could have moved on to recess.
RELATED POSTS:
1. Student Told To Read Langston Hughes Poem "Blacker"
2. Florida Teens Post Racist Video—and Reveal Their Own Ignorance
3. White Teacher Should Not Be Suspended for Using the N-Word
4. Georgia's Slavery Math Problems Show the Need for Parents to Stay Involved
Mom. NY Times bestselling author. Pop culture ninja. Unapologetic lover of shoes, bacon and babies. Nice with the verbs. Founder of the top black parenting website, MyBrownBaby.