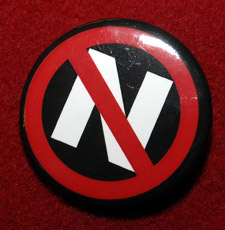 By NICK CHILES
In Chicago, where a white teacher got suspended because he tried to have a classroom discussion about the n-word, it appears that all common sense has flown out the window. I know that the n-word is still the third rail of public discourse, but that doesn't mean we should get all goofy and silly whenever that word creeps into a cross-racial conversation.
It's clear that the Chicago teacher, Lincoln Brown, was seizing what we call a "teachable moment" and using it as an opportunity to break down the history and etymology of this horrific word to his predominantly black sixth-grade class. Any parent should be quite familiar with the idea of the teachable moment because they come up all the time when we are with our children—if we're willing to acknowledge them.
A good teacher is not going to let a good teachable moment pass him by. So when Brown came upon a note being passed from one student to another containing a rap lyric that used the n-word, he pounced. The teacher, a 20-year veteran, even found a way to connect it to his teaching of Mark Twain's novel, "Huckleberry Finn," which has long been a lightning rod for academic skirmishes about racism because of the character "Nigger Jim."
During the white teacher's lecture, the school principal happened to slip in the classroom. When the principal heard what was going on, it didn't take him long to react: he suspended Brown for five days without pay, claiming he had used "verbally abusive language" in front of the students.
In the context of the moment, I can't help but feel that Brown's suspension was ridiculous, likely prompted more by the principal coming down with a severe case of a virus called C.Y.A. (Cover Your Ass). Still haunted by the picket lines and outraged headlines connected to the case of Georgia's slavery math problems and dozens of other instances of racial insensitivity in schools, the principal probably wanted nothing to do with packs of angry parents that he imagined flooding into his office. Better to take proactive action—even if it was dumb action. The teacher, who has the support of students, parents and colleagues, has responded by filing a lawsuit against the school district.
ESPN apparently also has caught a bad case of C.Y.A. The sports network suspended an anchorman for a month because he used the expression "chink in the armor" when referring to the Knicks' new Asian superstar Jeremy Lin and his first NBA loss. When you watch the video, it appears that the anchor in no way was trying to refer to the Asian basketball player as a "chink" when he used the common expression. I just didn't see racial insensitivity there, especially in the world of sports, where overused war clichés are the stock in trade.
It may seem strange for an African-American man to be speaking out in favor of a white teacher using the word "nigger" and a white man who uttered the word "chink," but I think that we're not going to make any progress in this multiracial society unless we can have authentic and honest conversations about race. That will never happen if we continue to hide behind the knee-jerk, C.Y.A. finger-pointing. When it comes to race, we need to keep it real.
RELATED POSTS:
1. Georgia's Slavery Math Problems Show the Need for Parents to Stay Involved
2. Slavery Math Problems in School? The Right Way to Do It
3. Los Angeles Teacher Accused of Lewd Acts—Entire School Staff Replaced
4. Atlanta Cheating Scandal: A Question of Character
Mom. NY Times bestselling author. Pop culture ninja. Unapologetic lover of shoes, bacon and babies. Nice with the verbs. Founder of the top black parenting website, MyBrownBaby.