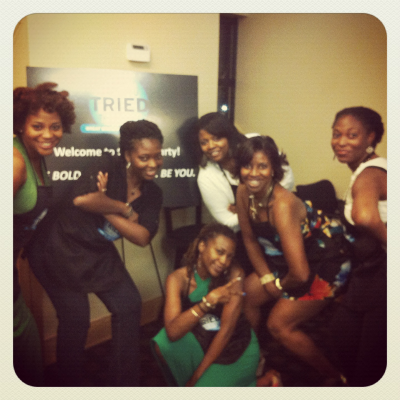 Watermelon Banana Martinis. Home made hummus, stuffed grape leaves and Baklava. Up-close-and-personal cooking instruction from a master chef. And my girls *waving at Selassie, Tina, Jenny, Akilah and Aesha* Yes, Lawd—it's Girls Night Out, MyBrownBaby style, courtesy of the P&G "Have You Tried This Yet?" program.
Mind you, my girls and I don't need an excuse to hang out and have a good time; the five of us could find that in a bar, a basement, a back alley—heck, anywhere, so long as we're together. Bonus if drinks and good food is involved. But all of us were extra amped when P&G invited us to a hands-on Mediterranean cooking lesson at the Viking Cooking School in Atlanta, where we enjoyed a night of cooking, eating, drinking and, of course, bonding and great conversation.
The tone was set when we arrived to cute guys in chefs uniforms serving up super delish watermelon banana martinis—which, according to Chef Donna, was totally void of all the usual sugary badness in regular martinis. #SCORE!. While we sipped, Chef Donna expertly walked us through some kitchen basics—how to quickly peel and dice an onion, how to properly hold a knife for maximum efficiency, the essential seasonings in Greek cuisine, the best ways to cook with wine—then got down to the business of showing us how to whip up some amazing Mediterranean dishes. On our menu: Savory Spinach Pies (Spanakopitas), Shrimp Baked with Tomatoes and Feta (Garides Saganaki), Tiny Greek Meatballs (Keftedakia), Stuffed Grape Leaves (Dolmades), Greek Yogurt and Cucumber Dip (Tzatziki) and Sweet Phyllo Pastry with Nut and Honey (Baklava).
Some of the more kitchen-challenged of us learned a thing or two—ahem, *cough* Akilah *cough*—while others of us dug right in with our expert kitchen skills. And all the while, we were talking smack, giggling, joking and loving every moment we had together.
Later, while we enjoyed the fruits of our labor, our conversation turned to the beauty of a man with well-groomed facial hair (we all love it), what instantly makes us feel beautiful (lipstick, mascara and a beautiful, sexy stiletto), our favorite ways to find time for ourselves (hanging with each other topped the list) and, of course, whenever black women are in a room together, the triumphs and challenges of wearing natural hair, raising self-confident little brown girls and instilling strength and a healthy sense of self-esteem in our little brown boys.
We ended the night posing for that picture you see up top—BOO to Nick Chiles for saying we look like a 1992 rap group "or maybe background dancers for Whodini." I think we look cute, doggonit!—and going home with a boxful of P&G personal care goodies that'll have us smelling good and looking right for months to come.
Now, I can't hook you up the good time we had with Chef Donna at the Viking Cooking School (though you can arrange for your own fun with your own girlfriends at vikingcookingschool.com), but I can most certainly hook up 10 lucky readers with the same basket of P&G goodies me and my girls got at our Girls Night Out. In it, you'll get:
Two tubes of Crest Complete
A toothbrush
A large bottle of Scope
A Gillette Fusion ProGlide razor and accompanying shaving products
A set of Herbal Essences shampoo and conditioner
The estimated value of each basket is $70. WOOT.
Want one? Check out VocalPoint, where you can bond with moms and try out great P&G products in this supportive online community of moms, and leave a comment on this post about something you saw and liked there. YOU MUST REGISTER YOUR COMMENT IN THE RAFFLECOPTER WIDGET BELOW TO QUALIFY—otherwise I can't include you in my fancy schmancy random drawing of entrants. You can Tweet, "like" this post, join the VocalPoint Facebook fan page or follow P&G on Twitter to earn extra entries. Again, I stress, YOU MUST COMPLETE ALL ENTRIES ON THE RAFFLECOPTER WIDGET TO QUALIFY.
Plus: Join Working Mother, Procter & Gamble, blogger Denisse Icaza from Ahorros Para Mama and me, MyBrownBaby, for a Have You Tried This Yet? Twitter Party on Wednesday, June 20, 2012, from 9 p.m. to 10 p.m. EST. We'll be discussing tips and stories with other gutsy, self-assured women like yourself and giving away $500 Gift Cards to three lucky participants. You must RSVP to be eligible to win prizes; follow @_workingmother_ , @PGeveryday, @AhorrosparaMama and @MyBrownBaby, check for the Party hash tag #WMPGtryit and register HERE.
Good luck—and I'll see you on the Twitterverse on Wednesday evening at #WMPGtryit.
Mom. NY Times bestselling author. Pop culture ninja. Unapologetic lover of shoes, bacon and babies. Nice with the verbs. Founder of the top black parenting website, MyBrownBaby.