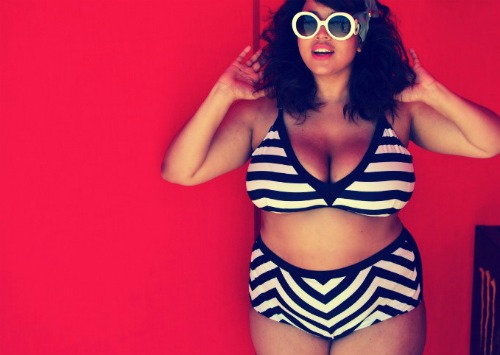 For the record? You couldn't beat me into a bikini. Not even when I was 120 lbs, pre-baby—before the stretch marks, thick thighs, and stretched belly skin took over what used to be a hot, shapely, 20-something body. I didn't know what I had then. Youth is wasted on the young. But you sure wouldn't evah catch this 40-something mom of tweens, no matter how confident I am in my skin, in a bikini now. Which is what makes this whole Fatkini campaign over at XO Jane, spearheaded by fashion blogger Gabi Fresh, all-the-more delicious, scary and a tad bit inspiring.
The Fatkini campaign is the nickname for xoJane's Real Girl Belly Project, a gallery full of pictures of plus-sized women in bikinis—a collection spearheaded by Gabi Fresh, a plus-sized beauty. Gabi's gallery was spurred by positive feedback she got after posting vacation pictures of herself in a series of super cutie bikinis. "I know first-hand," she wrote for xoJane, "how inspiring it can be to see people with bodies that look similar to my own feeling confident and happy on the beach in something other than a Hawaiian-print skirted one piece." She adds: "Hopefully this gallery, which features lots of body diversity, proves that it's not only "toned" fat girls who can feel confident hitting the beach in a two piece. "
Say word. Standing ovation to Gabi and all the brave women who rocked Fatkinis in the Real Girl Belly Project. I call them brave not only because they refuse to be shamed by pop culture's incredibly rigid, ridiculous notions of what constitutes beautiful and acceptable—gaunt, pale, big-boobed, blonde and for God's sake, not black—but because they're proud enough of their bodies to show them off in pictures on the internet. For the entire universe to see. I'm not there—not even by a stretch. But how delightful would it be if we moms could let go of the baby weight guilt trips and do something similar? (And P.S.? I sure would like to know where Gabi Fresh got those high-wasted bombshell bikinis. Someone might could beat me into one of those. Oh, and I heart GabiFresh.com. #ThatIsAll.)
RELATED POSTS
1. Beyonce's Post Baby Body is Round and Curvy —Just like We Husbands Like Them
2. The #Flawless12 Project (Day 1): Learning To Love What I Look Like In the Morning
3. Photos Of Mariah Carey's New Post-Baby Body! Let's All Feel Craptastic We STILL Have Our Baby Weight!
4. Shining: What I Love About Me
Mom. NY Times bestselling author. Pop culture ninja. Unapologetic lover of shoes, bacon and babies. Nice with the verbs. Founder of the top black parenting website, MyBrownBaby.