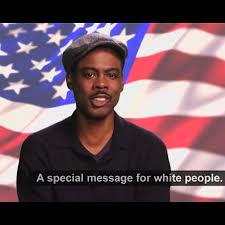 What cracks me all the way up is the folk who proclaim loudly and proudly that African American voters are pulling the lever for Barack Obama because he's black. Never once do those same people bother to admit that there's probably quite a few white American voters who are picking Mitt Romney as their guy because he looks just like them. Last week, Slate ran a piece calling white male Romney supporters on this, claiming that they support Romney "to the exclusion of logic or common sense," and that if it were not for that "narrow, tribal appeal," Romney wouldn't have a snowball's chance in hell of winning.
And let the church say…
Perhaps recognizing that there are white folk on the planet who do vote with their eyes rather than their conscience, Chris Rock took to Jimmy Kimmel Live this past Friday to convince not-so-easily persuaded white voters why a vote for Obama is the right one. How'd he do it? By hilariously making the case that President Obama is all-the-way white. My God—Chris Rock is a fool. And after all the intensity of the last few weeks before Election Day, his "Message For White Voters" is just the elixir we need as we head into the fight of our Democratic lives. Press play. Giggle. Repeat.
Mom. NY Times bestselling author. Pop culture ninja. Unapologetic lover of shoes, bacon and babies. Nice with the verbs. Founder of the top black parenting website, MyBrownBaby.