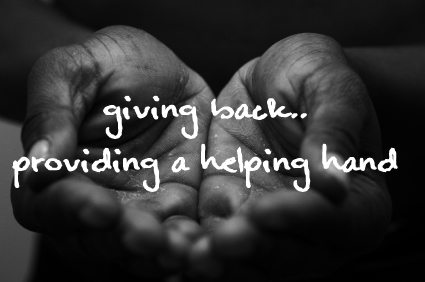 By SHAY STEWART-BOULEY
Now that the winter holiday season is almost here, I feel it is my public duty as a career servant to the less than fortunate and head of a non-profit agency to share some valuable information with you. After all, it's that time of the year when those of us with a few rocks want to lend a hand and do something nice for the folks with no rocks, yet a desire to do well doesn't always end well, so let me help you out.
First things first: in the ideal world, before you go through your closet and your kid's closet and start clearing things out to take to the local homeless shelter or social service agency, call said agency first and ask what they might need/want. Let me repeat: call and find out what an agency needs before you pull up with a carload of Hefty bags filled your discarded stuff.
See, in real social service agency land, often times your Hefty bags of used stuff creates more work and resources expended for the very people you are trying to assist. At my agency, we stopped taking clothing donations years ago because we had no washer/dryer and too many times the items we received were marginal and frankly should have been taken to the dump. Yet people still try to drop stuff off and seem bothered when we say sorry. Paying my staff to haul stuff away means money spent on something that is not of benefit to our clients' and creates waste.
That said, if we say sure we would be happy to take your old *insert item* please, pretty please make sure it is in good working condition. Too many times people give items that frankly are on their last leg of life and again, I and other social service providers must spend precious dollars getting rid of this item thus creating wasted resources. After all my staff isn't hauling stuff for free.
My rule of thumb: if you wouldn't give *insert item* to your Mom, BFF or anyone in your personal circle, please don't give it to the poor. They may be broke but they are people too!
Issues of food insecurity get lots of coverage in November/December and everyone wants to do something to help but please, pretty please call the food pantry or food bank before you drop off 37 boxes of cold cereal and ask what would work best. For starters many food pantries can use actual dollars to buy food cheaper than you and I can via food banks and they know their clientele best. Which brings me to my next point, for the love of all things precious don't give food items to the poor and needy that are outdated or gross. Many moons ago on this very blog I shared how once when I was a kiddo and my parents were on hard times someone gave my mother outdated chocolate syrup, 32 years later, I still remember the stench. Seriously, toss old shit out…the poor don't want it.
Many people love the idea of adopting some poor kiddos and making their winter holiday fabulous and often times will try to work through the schools or local youth service providers. This is a nice idea in theory but often creates a sense of unease, please respect that poor parents are still parents and they have the right to decide what their kids can and can't have. Please don't ask social service providers or school social workers to play the role of God or parents. No, I don't know what the "neediest" need and even if I do, I still need to discuss this with their parents. No, you cannot come and just give presents to the poor kids. Just because a parent is broke does not mean they have given up their parental rights.
Lastly social service providers would love to see you helpful winter helpers in the middle of the summer. For realz. Most food pantries experience a drop off in giving in July/August when you are off vacationing yet hunger and food insecurity does not go away just because the weather is lovely, so consider spacing your support throughout the year.
Signed,
A Frustrated Service Provider
PS: I know your family wants to do a group activity during the holiday season, but coming to serve food to the poor to teach your kiddos how good they have it really isn't comfortable. We welcome your help and support but our clients are not creatures to be gawked at or a teachable moment. Please examine your motives and reasons before you sign up. Thanks.
Shay Stewart-Bouley, M.Ed, is a Chicago native who's lived in Maine for 10 years. On her blog, BlackGirlInMaine, she shares what life is like in a rural, predominately-white state. When Shay is not blogging or tweeting, she pens a column on diversity for the Portland Phoenix and is the Executive Director of a faith-based community center serving low-income families. Shay is the mom of a 7-year-old daughter and a 21-year-old son and has a beloved life partner known as the Spousal Unit. This piece appeared first on BlackGirlInMaine; Shay agreed to share it here.
Mom. NY Times bestselling author. Pop culture ninja. Unapologetic lover of shoes, bacon and babies. Nice with the verbs. Founder of the top black parenting website, MyBrownBaby.