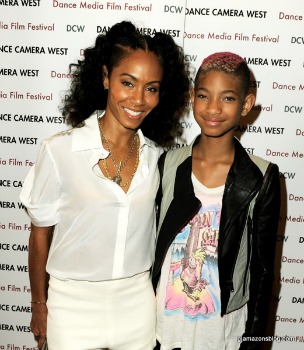 When Willow Smith debuted a freshly-shaven head earlier this year, and then later put all manner of dye into her short 'do, black folk practically scheduled an 18th Century-styled stake burning for Jada Pinkett-Smith. Jada's crime? Letting her precocious 12-year-old daughter, a singer and actress with an itchy Instagram and Twitter finger, do whatever she wants with her hair. Because, sweet baby Jesus, what black mother on this here planet lets her child scalp herself and dye her hair? On purpose? And then live to tell—and tweet (!)—about it?
In my post "Willow Smith's Shaved Head: Why Does This Child's Short Haircuts Get Black Folk So Riled Up?" I questioned why black folk—specifically, African American mothers—were having booby attacks over Willow's hairstyles and wished that more of us gave our girls "the space to wear their hair just the way they want and feel cool about their choices, sans the judgment. Sans the ridicule. Sans having to worry about other peoples' conventional standards." After all, I added, "it's just hair." Reason didn't seem to matter, though. It was all, "Down with Jada! And her bald-headed kid."
Now, months after her baby girl got dragged through the internet ringer, Jada is finally addressing the hoopla, and her reasoning for letting her daughter choose the way she wants to wear her hair is deeper than you think. In a Facebook post on her fan page, Jada wrote:
This subject is old but I have never answered it in its entirety. And even with this post it will remain incomplete.

The question why I would LET Willow cut her hair. First the LET must be challenged. This is a world where women, girls are constantly reminded that they don't belong to themselves; that their bodies are not their own, nor their power or self determination. I made a promise to endow my little girl with the power to always know that her body, spirit and her mind are HER domain. Willow cut her hair because her beauty, her value, her worth is not measured by the length of her hair. It's also a statement that claims that even little girls have the RIGHT to own themselves and should not be a slave to even their mother's deepest insecurities, hopes and desires. Even little girls should not be a slave to the preconceived ideas of what a culture believes a little girl should be. More to come. Another day.

J
What Jada said. Word.
RELATED POSTS:
1. Willow Smith & The Stripper Pole: Kids Will Be Kids—Even Will And Jada's
2. That New, New: Willow Smith, The Hair Whip, and Coloring Outside the Lines
3. Angelina Jolie Put Synthetic Braids In Zahara's Hair. And We Care Because… Why?
4. A Beautiful Black Girl Finally Says, "I Love My Hair!"
Mom. NY Times bestselling author. Pop culture ninja. Unapologetic lover of shoes, bacon and babies. Nice with the verbs. Founder of the top black parenting website, MyBrownBaby.