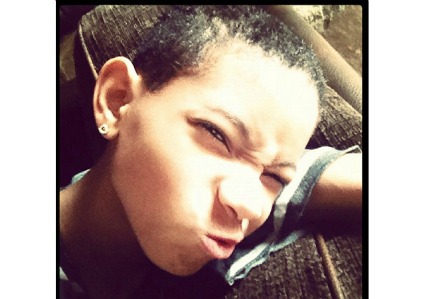 Willow Smith debuted a freshly shaven head last week—a new down-to-the-scalp hairdo that, of course, elicited all kinds of uproar across the internets, as the internets are wont to do when Jada Pinkett Smith and Will Smith's daughter, she of "Whip My Hair" fame, is involved. Typically, black folk are alternately accusing The Smiths of bad parenting, calling the 11-year-old media darling a spoiled, unruly, rotten child and acting as if Willow's haircut has thrown the Earth's rotational spin off its axis.
Really, folks, it's just hair.
Of course, as an African American mother of two girls, I understand just how loaded that statement is. It's never "just hair" for black girls; length, texture, cut and style is everything, and, revival of the natural hair movement notwithstanding, nobody even remotely entertains shaving a little girl's hair down to the scalp. It doesn't matter how perfectly her head is shaped, how much it makes her eyes pop, how beautiful she looks—as Willow does—in all-too-many eyes, a girlchild should never, ever be bald.
I speak this from a very personal truth—one that involved my then-3-year-old daughter Mari, her twists, a pair of scissors and her cousin Miles' idle hands. I've written extensively about that fateful day when the two of them worked together to give Mari a reverse Mohawk. All of us were shaken. Nick cried. Literally cried. I took my baby girl upstairs, washed her hair and decided after getting a gander at all the bald spots cut from her forehead to just beyond her crown that the only logical thing to do to fix the mess they'd created was to shave her head all the way down and start growing it all over again. Honestly, I didn't think it would be a big deal; I figured her pierced ears, uber-girl wardrobe and a few choice headbands would help minimize the number of people who would think she was a boy while her hair grew back in, fuller and prettier than it was before. Besides, we'd had examples in our family of little girls and women who wore their hair super short; Nick's sister, Angelou, got married with her hair shaved all the way down to her scalp, and his other sister, Adrienne, didn't hesitate to cut her daughters' hair low when they were little girls. All of them were every bit as stunning as Willow is in the sassy pictures she posted on her Willow Smith WhoSay account.
Still, Nick was adamantly, patently against my shaving our daughter's hair. He was too afraid that, no matter how cute, people would constantly mistake her for a boy and that, he reasoned, would give her a complex—make our already reserved daughter retreat into a shell. Rather than argue, I took her to a natural hair salon, where the stylists were more than happy to McGiver braids into her wisps of hair rather than shave it down—which they, too, argued against.
But why? Really—what's so deep and foul and wrong about a little girl with a shaved head? What about it says, "her parents are too lenient" and "she looks too grown"     and "ew, she looks like a boy" for so many people? Why can't it just be a hairstyle—like cornrows or afro puffs or pigtails with bangs or a press-and-curl or twists? We give nary a second thought to black boys wearing cornrows, thick curly hair (see Jaden's pre-haircut pics and any photo of practically every pre-teen boy band) and earrings in both ears—don't say a word when a mother slaps a relaxer or synthetic hair or clip-on's in a 4-year-old girl's hair, but mercy, let a little girl show off her natural features and… yeah.
 I showed pictures of Willow Smith with her newly-shaved head to my Mari and Lila and though they think she looks "way cool," both agreed that it takes a certain kinda girl with a certain kinda personality to pull it off. "She doesn't have to worry about anybody making fun of her because she's famous," Mari said. "On her, it's just cool." I agree. And I wish we could give all little 11-year-old girls the space to wear their hair just the way they want and feel cool about their choices, sans the judgment. Sans the ridicule. Sans having to worry about other peoples' conventional standards. After all, it's just hair.
RELATED POSTS:
1. Willow Smith & The Stripper Pole: Kids Will Be Kids—Even Will And Jada's
2. That New, New: Willow Smith, The Hair Whip, and Coloring Outside the Lines
3. Angelina Jolie Put Synthetic Braids In Zahara's Hair. And We Care Because… Why?
4. A Beautiful Black Girl Finally Says, "I Love My Hair!"
Mom. NY Times bestselling author. Pop culture ninja. Unapologetic lover of shoes, bacon and babies. Nice with the verbs. Founder of the top black parenting website, MyBrownBaby.