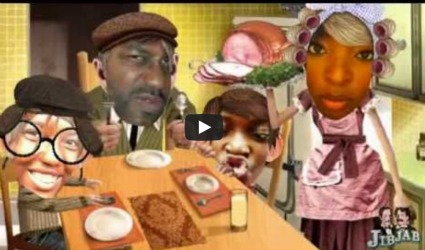 There's three heads of hair to be done and cleaning to be done, too, and then there will be the cooking and the cleaning and the last-minute present buying and a little gift-wrapping, too. Somehow, all of this will need to be done before tomorrow, when our family and friends come over to our place to celebrate Christmas. It'll get done. All while we rock out to our MyBrownBaby Soul Holiday playlist (if you're on Spotify, subscribe to this one—it's dope), bake a few cookies for Santa and Mommy enjoys a cocktail (or two).
Of course, Christmas at MyBrownBaby wouldn't be the same without an e-card from our favorite e-card site, JibJab. It's environmentally friendly (no paper or stamps necessary!), funny (I mean, come on y'all—it's The Christmas Story, the best Christmas movie in the history of Christmas movies, starring Mari as Ralphie) and it won't clutter up your kitchen counters and drawers. You're welcome!
Enjoy our digital Merry Christmas e-card, hug your family tight, enjoy the holidays and remember that Jesus is the reason for the season. HUGE MERRY CHRISTMAS CYBER HUG from my family to yours!
Mom. NY Times bestselling author. Pop culture ninja. Unapologetic lover of shoes, bacon and babies. Nice with the verbs. Founder of the top black parenting website, MyBrownBaby.