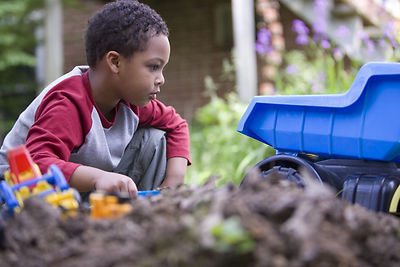 By JAMAL FREDRICK
Over the past year, I've had an intense internal struggle over the rise of a parenting philosophy that makes me have almost knee-jerk reactions—that makes me respond in ways contrary to how I perceive myself. Progressive, liberal, forward-thinking, open-minded, not bound by societal constructs of race, class, sex and gender roles—that is who I believe I am. At least I used to. Until conversation on Twitter and blogs started advancing this concept of raising children—boys, specifically—in a gender-neutral fashion. This idea came to a head just before Christmas, when an online petition convinced the toy company, Hasbro, to create the perennial girl toy, the Easy Bake Oven, for boys.
First thought: "This is ridiculous."
Call it narrow minded, but I take great offense when I continuously see things promoted to effeminize our boys. We're fast becoming the generation where boys are being raised in a non-overtly masculine way—where they're being taught to be less aggressive, less competitive, more restrained, gentler. And now, we want them in the house baking cookies. Word?
It doesn't help that all of the comments that I've seen in support of this parenting philosophy were from women, and the only women I've seen participating in this are single mothers. I read the articles/blogs/comments and instantly imagined boys being raised solely by women, dolled up in aprons, playing with Easy Bake Ovens. I'd be lying to your face if I told you that image didn't bother me. I'm sure I'm not alone; I have yet to see a man, whether online or in real life, support this style of parenting, much less initiate it in their own homes.
I look at toys almost as the primary source of a child's interests and I do draw a distinction between what a child plays with and what a child does within the household. Let my son play outside, get dirty, fight, climb trees, burn up bugs and then come inside and help mommy and daddy with dinner. I want it to be duly noted that I don't hold to gender stereotypes. My wife and I are a team: we work together and take turns doing everything within the house. But as contradictory as it sounds, I do look at certain things being "boy things" and some as "girl things." I don't believe in this concept of gender-neutral child rearing; to me it's an effort to keep kids from going in either direction. And you know what? I need my boy to grow up to be a man. When I tell him to "be a man," I want that to mean something.
What I prefer with my own children is to erase the gender stereotypes and strict roles and embrace more of a "gender inclusive" mode of rearing. This means that neither my daughter nor my son will have limits on what they can do, but there will be a direction. My daughter seems like a daddy's girl at times, but she wants to be like her mommy, as she should. She wants to try to help daddy out with his tools when he's working around the house, but she loves dressing up, make up, dolls and tea parties. I'm sure my son will dig playing kitchen and may fancy a tea party or two, but I'm sure he'll love playing with cars, picking up frogs and watching a ball game with his dad. There's nothing wrong with this.
My direction will also come from my children. As we raise them and have an environment where they do everything, their interests will develop and they will inform us about what they really like. I want my children to feel safe in expressing themselves and never have any guilt or shame in being who they are, and I realize that it won't be what toys they plays with or activities they do that determines their character. Nature (who they are) and their environment (how my wife and I raise them) will shape their character. But I have no interest in forcing them into so-called "gender-neutral" roles because a bunch of people on Twitter internet claim it's progressive.
Mind you, I get the whole Easy Bake Oven for boys thing: the fact is that in the restaurant industry, the majority of the chefs and restaurateurs are male. And look at me, the hypocrite. I love cooking. Top Chef is DVR'd and watched religiously. I have seen the video of the chefs in support of the toy oven for boys and I am very proud of the young lady who took it upon herself to fight an age-old social construct. Do I understand the perspective and purpose? Yes. But, will I be buying one for my son for his birthday? Nope. Not at all.
Originally from San Francisco, Jamal Frederick lives in the Bay Area with his wife and two children. Follow him on Twitter @jamalfrederick, and check out his site-in-progress, www.killthecartoon.com.
RELATED POSTS:
1. J. Crew Can Keep Its Pink Toenail Polish: I Want My Boy To Be A Boy
2. Princess Boys: Should Boys Wear Dresses and Sparkly, Pretty Things To Kindergarten Class?
3.That New, New: Willow Smith, The Hair Whip, and Coloring Outside the Lines
4. Family Hides Gender of Newborn For Protection From Stereotypes? Must Be Nice.
Mom. NY Times bestselling author. Pop culture ninja. Unapologetic lover of shoes, bacon and babies. Nice with the verbs. Founder of the top black parenting website, MyBrownBaby.