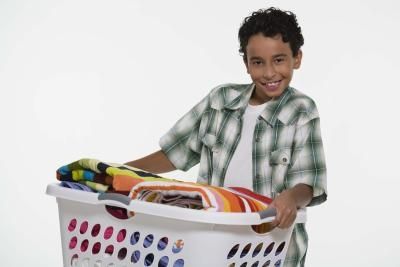 By NICK CHILES
Have trouble getting your kids to do chores around the house? There's now an app for that.
It's called the Chore Monster and it's an ingenious method of assigning points and rewards to the kiddies when they step up and do chores, adding some fun and some technology to something that is normally about as far from fun as you could get in most households.
Parents decide on the rewards, which can range from privileges like sleepovers or a family outing to video games or cash, and decide on the number of points children need for each one. According to the app's creators, parents are often surprised at the zeal with which the little ones dive into the chores, which can be tasks like setting the table, feeding the pets, cleaning their rooms or unloading the dishwasher.
"What I find really interesting is that a lot of times the reward is just empowering the child to make their own decision," said Chris Bergman, the founder and CEO of Cincinnati, Ohio-based company ChoreMonster.
You may be a little bothered by the idea that we now need to resort to technological bribes and rewards to get our brats to do some chores, but…hey, we all have our methods. Maybe your mom had the threat of a beatdown at her disposal, or the specter of no dinner for you if you didn't set the table and wash the dishes—Denene claims her mom turned her into Cinderella, making her clean the entire house every weekend (and then I guess she had to walk to school barefoot)—but our generation of parenting has moved on to our own new-age methods.
Okay, who am I kidding? We're all punks. Our kids are lazy and entitled. And we're still kinda stunned how we got here.
With me and Denene, I think the chores snuck up on us a little bit. First the girls were too young and goofy to really do anything useful like wash the dishes or clean the bathroom. Then one day they weren't young and goofy any more, but because they hadn't been made to do anything, they didn't want to do anything. It quickly dawned on us that the less we asked our kids to do, the less they wanted to do. This theorem should be taught in geometry class.
Somehow we had thought the opposite would be true—they would be so grateful at how little they were asked to do around the house that when we made a request that they perform a chore, they would jump at the chance.
Yeah, right.
That might be how logic works, or how the child brain worked in the 1970's, but it has no connection to the reasoning of a child in the new millennium.
It soon became apparent that when kids get accustomed to having chores and being made to work around the house, it becomes a regular part of their existence. They complain less and just do it. So that's where we are now, trying to transition our 13- and 10-year-old daughters into the doing-more, complaining-less mode. But we ain't even close to there yet.
So that's where we hope Chore Monster (there's a similar one called High Score House) will come in handy, getting them used to a full menu of chores that they will dive into with gusto, looking for those reward points. And then one day we all will look up and the transformation will have happened: they will be used to working around their house.
That's our wish. So we will give one of these apps a shot and report back to you in a few months. The makers of Chore Monster say their app helped 21,000 children complete more than 300,000 chores during the eight months it was tested before launch at the end of 2012. Okay, let's see what it does with those pesky Chiles girls. We'll take any help we can get.
RELATED POSTS:
1. I'll Always Love My Mama: Missing My Mom On Mother's Day (Redux)
2. Clean Happy With Method Products & MyBrownBaby!
Mom. NY Times bestselling author. Pop culture ninja. Unapologetic lover of shoes, bacon and babies. Nice with the verbs. Founder of the top black parenting website, MyBrownBaby.