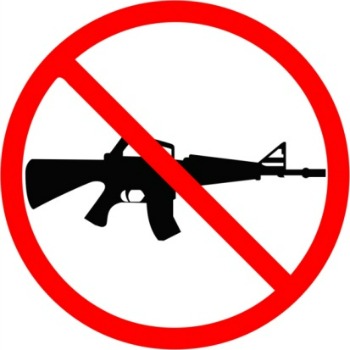 By NICK CHILES
Though it may come as a surprise to much of the country, there are a whole lot of Republicans in New York state—so many that they actually control the state Senate. Which makes the new gun control laws passed by the state legislature and signed into law yesterday by New York Gov. Andrew Cuomo all the more impressive and instructive to Washington, DC.
As the Republicans in the U.S. Congress roar about President Obama's assault on the constitution by seeking gun control, the moves in my former home state of New York should be required study for every member of Congress. New York Republicans actually joined together with Democrats to pass the most stringent gun control laws in the nation.
In addition to expanding the ban on assault weapons and lowering the legal ammunition capacity available to New York gun buyers, the new measure takes serious steps to keep guns out of the hands of the mentally ill by making therapists report to the state if someone is a danger. The state would add that person's name to a database that would be checked when gun licenses are sought or renewed every five years.
"People who are mentally ill should not have access to guns, that's common sense," Cuomo said at a signing ceremony in Albany. "That's probably the hallmark of this bill, coming up with a system that allows for mental-health screens."
It should be instructive, as the U.S. Congress is soon faced with Obama's gun control measures, to take a closer look at the Republicans in New York. As Rachel Maddow insightfully pointed out on her MSNBC show, there are plenty of Republican gun owners in New York state. Outside of New York City, the state is extremely rural and agricultural, looking much like the Midwest or the South. Even living in the state with the most stringent gun control laws, these gun owners have been able to continue lawfully owning their guns. As Maddow put it, no secret government unit has swooped down on them in black helicopters and taken their guns away. Their world didn't come to an end.
So maybe it is possible to protect the Second Amendment, as gun rights advocates like to crow about, and at the same time actually begin passing laws that will keep gun ownership relatively sane and reasonable, such as limiting high capacity magazines and banning assault rifles that have nothing to do with hunting or defending your home from the mythical intruder.
"Seven bullets in a gun, why? Because the high-capacity magazines that give you the capacity to kill a large number of human beings in a very short period of time is nonsensical to a civil society," Cuomo said as he signed the new law.
In the Newtown shooting, 20-year-old Adam Lanza carried numerous high-capacity magazines and he changed gun clips several times while mowing down 20 first graders, allowing him to unleash at least 150 rounds in his 10-minute assault.
If we're going to protect ourselves and our babies from lunatics, we have to start somewhere. And in order for us to start somewhere, the people who are supposed to be our leaders need to show the courage to stand up to the dollars of the NRA and the gun manufacturers and demonstrate that our government can sometimes actually work.
Because if we can't count on the lawmakers that we send to Congress to actually protect us, which I believe is the basic role of government, then they really serve no purpose to us. Americans have been complaining for a long time about the dysfunction of Washington. This is a chance for Washington to show that it can actually function when our lives are at stake.
RELATED POSTS:
1. If Newtown Shootings Showed Us Anything, It's That Guns Kill People and It's Time For Reform
2. Colorado Theater Shooting: A Mom Recalls Her Own "Dark Knight" Horror
Mom. NY Times bestselling author. Pop culture ninja. Unapologetic lover of shoes, bacon and babies. Nice with the verbs. Founder of the top black parenting website, MyBrownBaby.