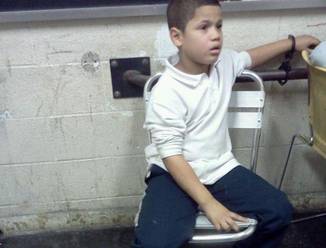 By NICK CHILES

There's been a lot of discussion in recent days about posting armed police officers in every school in the country as a way of preventing the kind of shocking tragedy that befell Newtown, CT, last year. This idea was first proposed by the National Rifle Association and has since been taken up by a slew of politicians, including Democrats like Sen. Dianne Feinstein and President Obama.
But here on MyBrownBaby, we've been chronicling the flip side of that equation—the many ways that children, particularly black and Latino boys, are potentially harmed when there are police officers stationed in the school. Going back through our archives, I count at least a half dozen stories we've written in the past year about outrages involving police officers, children of color and schools. Last year, a Chicago youth advocacy group called Project NIA analyzed Chicago Police Department data and found that 20 percent of all juvenile arrests took place on school grounds—from algebra straight to a prison cell.
This time out of the Bronx we get another mind-numbing illustration of how the best instincts of the police force seem to go haywire when they are dealing with black and Latino boys, even as young as seven-years-old.
In this case, Wilson Reyes, 7, got into a dispute on the playground over $5—one of his classmates accused him of stealing the $5 bill that had fallen to the ground; Wilson denied it. But the police arrived at PS X114 at about 10:20 a.m., handcuffed the boy and held him at the school for four hours, then dragged him to the 44th precinct and interrogated him and verbally abused him for another six hours, according to a $250 million lawsuit filed against the city and the NYPD by Wilson's family. The case is described in a story in the New York Post.
"Reyes was handcuffed and verbally, physically and emotionally abused, intimidated, humiliated, embarrassed and defamed," according to the legal documents. He was then charged with robbery.
"My son was crying, 'Mommy, it wasn't me! Mommy, it wasn't me!' I never imagined the cops could do that to a child. We're traumatized," Wilson's mom Frances Mendez told the Post.
"Imagine how I felt seeing my son in handcuffs!'' she said. "It was horrible. I couldn't believe what I was seeing."
Mendez told the Post that when she and her sister went to the station house, first they were told they couldn't see her son. When they finally got to see him, the frantic  7-year-old was seated in a shabby chair with his left wrist cuffed to the wall, Mendez said.
His mom snapped a picture of the scene (above), which wound up being printed by the Post as proof.
Inspector Kim Royster told the Post the story was "grossly untrue in many respects, including fabrication as to how long the child was held in the precinct which was less than half of the time mentioned."
That's supposed to make it better—four hours instead of ten?
And by the way, another classmate later admitted the theft, according to the legal documents.
Jack Yankowitz, the Reyes family's lawyer who filed the $250 million claim with the city Comptroller's Office Monday, said what the police did was "unfathomable."
"The whole thing sounds so stupid. They were interrogating him like he was a hardened criminal," Yankowitz said.
"If you have a child, a nephew, can you even imagine this happening to them?"
In answer to the lawyer's question, posed in the New York Post, I don't even want to imagine something like this happening to my child. But these things seem to be happening all the time—a direct result of police and children being thrown together in our nation's public schools.
RELATED POSTS:
1. Kindergartner Handcuffed and Brought to Police Station for Having a Tantrum? Ridiculous!
2. Police Officers in School? A Recipe for Student Failure
3. A Middle Schooler Strip Searched in Front of Classmates? This Needs to Stop
4. Police Officer Sprays Arkansas Students With Pepper Spray to Clear the Halls
Mom. NY Times bestselling author. Pop culture ninja. Unapologetic lover of shoes, bacon and babies. Nice with the verbs. Founder of the top black parenting website, MyBrownBaby.