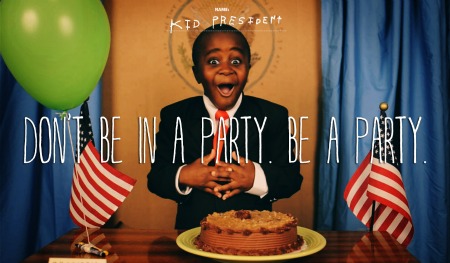 Honest to goodness, if you watch nothing else today, you MUST press play on this video by Robbie Novak, a.k.a., Kid President, the 9-year-old, tux-wearing hype machine, who is using his awesome to encourage the world to be, well… awesome.
In his three-and-a-half-minute pep talk, little Robbie quotes Robert Frost and Journey, struts and dances in the middle of a football field, and gives some of the tastiest bites of motivation ever—imploring all those within the sound of his voice not only to get off our butts and DO something, but to do that something together.
"If life is a game, aren't we all on the same team? I mean really, right? I'm on your team. Be on my team. This is life, people. You've got air coming through your nose. Heartbeat. That means it's time to do something!" little Robbie says in his latest video, posted on his website KidPresident.com.
"This is your time, this is my time, this is our time. We can make every day better for each other. If we're all on the same team, let's start acting like it. We've got work to do. We were made to be awesome."
Robbie says that he made this video for his friend Gabbi, whom he reveals is "fighting cancer—like a boss." Gabbi is quite a lucky girl to have such a friend, and we send up prayers and well-wishes for her, along with some 4 million people who've viewed her friend's special message to her. But we wonder if Robbie had any idea that he would end up encouraging us all?
Ohmigod, I just want to squeeze his cheeks and poke his dimples and hug him, he's so delicious. But since I do not personally know the little Tennessee star—and his mama probably wouldn't take too kindly to those kinds of stalker-ish advances toward her baby boy—I'll simply watch Kid President's adorable video again and again and again, and invite you to do the same. Be inspired.
Mom. NY Times bestselling author. Pop culture ninja. Unapologetic lover of shoes, bacon and babies. Nice with the verbs. Founder of the top black parenting website, MyBrownBaby.