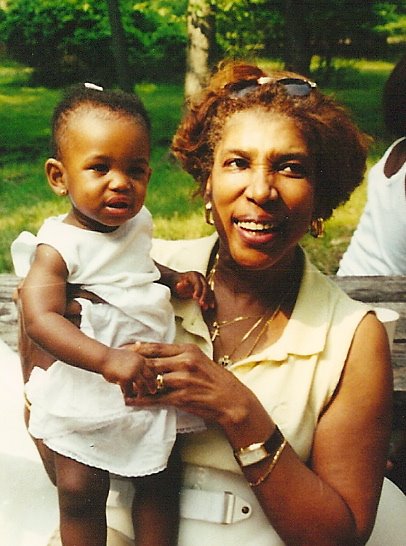 My mother had beautiful hands—lovely, long and fresh, just like her. She kept her fingernails dipped in maroons and dark browns—subtle, but still noticeable. Strong. As she got older, though, Mommy's hands became gnarled with the inflammation of rheumatoid arthritis, almost at the same time that a workplace accident took out a disc in her spine. She spent an enormous amount of time posted up in hospital beds and doctors' offices—enough so that when minor things caught hold of her, like coughs or stomachaches or any other general malaise, she paid it no mind. Soldiered on.
Doing this cost my mother her life.
My mother, you see, died at age 62 of a heart attack, five days into a family reunion trip to her childhood home. She got on the plane experiencing flu-like symptoms—shortness of breath, weakness, unusual fatigue, dizziness, back pain, but thought nothing of her malaise—that is was nothing serious. And even though everyone around her could tell something was seriously, progressively wrong, Mommy refused to go to the hospital—refused to let someone take a look at her. To care for her. She preferred to soldier on.
What she and our family failed to realize, though, is that my mother was experiencing all the classic female symptoms that signal a heart attack is imminent—signs of which all-too-many of us are completely unaware. By the time anyone was able to talk her into allowing an ambulance to rush her to the hospital, she died, right there on the floor of her childhood home, with one each of her brothers and sisters standing by—hopeless, helpless.
This did not have to be.
And so today, in the name of my mother, Bettye Millner, I implore each of you reading this post to know the heart attack symptoms for women, as well as the risks associated with them. I wrote about this last year—as I do every year—but certainly it bears repeating:
Women tend not to have the clutch-your-heart, movie-styled heart attacks that men have; our symptoms are more likely to include all those that my mother experienced, plus nausea, lower chest discomfort, upper abdominal pressure and nausea.
Women can exhibit symptoms up to a week before their heart muscles suffer irreparable damage, leading us to believe that we're suffering from something other than a heart attack.
Heart attacks are the leading cause of death among all women, but black women are affected in even greater numbers, particularly because the risk factors associated with heart disease include diabetes, obesity and high blood pressure—huge health issues for us.
It's critical that we keep our heart muscles strong through exercise, weight control, healthy eating, refraining from smoking and watching our cholesterol and blood pressure.
What's more, heart disease is plaguing and devastating the health and well-being of African American women in particular, because we simply do not know the stakes. According to the American Heart Association:
Cardiovascular disease is the leading cause of death for African American women.
Of African American women ages 20 and older, 46.9 percent have cardiovascular disease
Only 1 in 5 African American women thinks she is personally at risk.
Nearly 50 percent of African American women are aware of the signs and symptoms of a heart attack.
Only 43 percent of African American knows that heart disease is their greatest health risk.
I'm writing about this not just to honor my mother, but in support of a month-long nationwide effort to encourage women to get smart about heart health. While the American Heart Association encourages women to wear red in support of heart health awareness, companies like Diet Coke are partnering all month long with the National Heart, Lung, and Blood Institute (NHLBI) to boost The Heart Truth®, a campaign that reminds us women to protect our heart health and inspire those we love to do the same.
Go to the American Heart Association's site to learn more about heart disease and its risks, plus hear the stories of real women who survived the devastation of heart attack. My favorite page on the American Heart Association site is "Live Healthy," which houses exercise tips, suggestions for healthy snacks and eating-on-the-go, plus a super smart section on heart healthy dinners under $100 per week, plus tips for feeding picky eaters.
I encourage you, too, to upload heart-inspired photos to Twitter or Instagram using the hashtag #ShowYourHeart to trigger a donation from Diet Coke to the Foundation for the National Institutees of Health. Diet Coke will donate $1, up to $100,000, for every #ShowYourHeart upload. I'm going to do my part by sharing my heart—a picture of my mother.
I do miss my mother's hands—their warmth. Her touch. There were days aplenty that I laid with her in her bed and held them while we got lost in the din of the TV, not saying much of anything, but knowing, for sure that our love knew no bounds. There are times when remembering those moments simply isn't enough. I want her back and wish with all my might that she and our family would have known the symptoms of heart attack in women. We found out the hard way. You do not have to. Be heart smart—not just in February but everyday. Share this post with everyone you know so that they can be heart smart, too.
RELATED POSTS:
1. I'll Always Love My Mama
2. Smart Heart Health: Black Women CAN Save Themselves From Needless Tragedy
3. Get Heart Smart: Show Your Support For African American Women's Heart Health
Mom. NY Times bestselling author. Pop culture ninja. Unapologetic lover of shoes, bacon and babies. Nice with the verbs. Founder of the top black parenting website, MyBrownBaby.