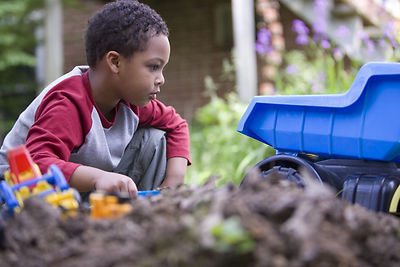 So, it turns out that when you fall to your knees and cry out to sweet baby Jesus to be a fence before your little rambunctious, bad butt little boys kill you dead, you may be on to something: new research shows that having sons can shave an average of eight and a half months off a mother's life.
Apparently, dads have absolutely nothing to worry about. *insert side-eye here*
The study, published this week in the journal Biology Letters, looked at the post-childbirth survival rates of more than 11,000 moms and some 6,000 dads in pre-industrial Finland, during the 17th to 20th centuries—a period when this mostly agricultural group didn't have access to medical care or birth control. What they found: a mother who bore six sons would live an average 32.4 years after the birth of her youngest son, while a mother who had girls lived 33.1 years after her youngest daughter was born. No matter a mom's social or financial status, the shorter life expectancy was the same, researchers said.
Evolutionary ecologist Dr. Samuli Helle of the University of Turku in Finland and Dr. Virpi Lummaa of the University of Sheffield in the United Kingdom said in the study that there's a bunch of different reasons why having boys takes moms out more quickly than having girls: traditionally, girls helped moms shoulder household responsibilities, which could have increased a mom's life span slightly, plus, biologically, male babies are bigger than female babies, which may have meant that they required more nutrients from the mom's body during gestation.
Dads weren't affected, probably because reproduction takes WAY less of a toll on their bodies than it does a mother's.
But rest easy modern moms of boys: Helle and Lummaa point out that life these days is way different from that experienced by moms in the study, a vast majority who were born before the early 1900s. Today's families are smaller, eat better and have better medical care and access to birth control, so women are far healthier now than they used to be, the researchers said. Plus, the study shows a link between having sons and dying earlier, but doesn't necessarily prove that one causes the other.
Let the record show that long after we're gone from here, researchers will come along and find that having girls, not boys, takes months off a mother's life. Come on—the self-esteem issues? The attitudes? The flat-out refusal to help around the house unless you threaten them to within an inch of their lives? I think I've lost YEARS already. And don't get me started on being a black mom in America. Every last one of us has one foot in the grave dealing with the madness that comes with that one. *buries had back under the covers* Deep, deep sigh.
Mom. NY Times bestselling author. Pop culture ninja. Unapologetic lover of shoes, bacon and babies. Nice with the verbs. Founder of the top black parenting website, MyBrownBaby.