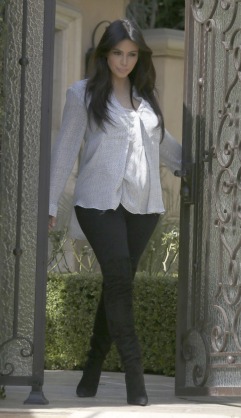 Trust: Never in a gazillion years did I ever think I'd be defending Kim Kardashian—she who came up on a bad sex tape with Brandy's little brother, got filthy rich off her trysts with ballers, made a mockery of marriage with her nationally-televised nuptials that ended practically before the ink could dry on the certificate, and who literally wallows in the filth and muck of the paparazzi lights. But good God, ever since the queen of the E! network's mindless reality TV programming got pregnant with Kanye West's baby, crazy talk surrounding Kardashian has reached a harsh new low, with tabloids and blogs calling this woman carrying a baby in her belly… wait for it… fat.
At the grocery store, a Star magazine cover story of the 5-month pregnant Kardashian cloaked in what appears to be a really unfortunate and unflattering clingy black and white dress claimed she's gained 65 lbs binging on pasta, cake and ice cream and that her famous booty now looks like a "sagging, dimply blob."  Except the picture they showed was shot from a crazy angle that made her look huge—despite that photos shot from opposite angles showed she's actually much smaller. Another story over on the Daily Mail caught flicks of Kardashian rocking a white pencil skirt and promptly, offensively said the zipper running the length of her derriere is "the hardest working zipper in showbiz." And, of course, rumors abound that Kris Jenner, Kim's momager, already is shopping a $4 million post-pregnancy weight loss deal for her daughter, who'll surely need a fat intervention from a major company a la Mariah Carey and Jessica Simpson after she gives birth. Even the slightly kinder, more gentler blogs are dismissing her claims of exercising and healthy eating as just her way of desperately trying to stave off the pregnancy pounds.
Seriously, it's fat-shaming at its finest. A rather disgusting display of it that's getting on my doggone nerves.
I mean, it's painfully clear that these tabloids and websites equate Kim's coveted curves with fatness. Baby's got back and hips and breasts for days—the kind that we celebrate with abandon in black pop culture, but that gets dismissed amidst the Twiggy ideal that continues to rule mainstream fashion and beauty magazines, runways and our celeb-obsessed media. They've been waiting for the chance to call this woman a cow, despite that she's a petite and uber sexy 5' 2" "exotic" bombshell. And now that Kim's pregnant, they've got their in.
Except in constantly harping on Kim Kardashian's weight—How much has she gained? How awful will she look in her clothes? How hard will she have to work out at the gym to avoid looking like Shamu the Whale? How is it that she looks like she's carrying twins in her ass?—these stupid gossip rags are not only being vicious to the reality TV star, they're tearing pregnant women to shreds.
Newsflash: women who are carrying humans in their bellies gain weight. Sometimes a lot of it. There's the baby, the placenta, the amniotic fluid, the increase in blood volume, abdominal muscle, skin and connective tissue around the growing belly and an enlarged uterus and breasts that pack on the pounds. And yes, there's the weight that comes from eating extra and the reduction in activity as it becomes a little more challenging to move. It happens because, again, there's a human in your body.
So excuse the hell out of Kim Kardashian and every other pregnant woman who doesn't fit into the runway-ready ideal these tabloids and blogs and paparazzi fools expect. How about everybody just back off already and let this woman—and the rest of pregnant moms-to-be—enjoy her pregnancy, sans the ridiculously unrealistic expectations these foolish stories heap on not only celebrities but the regular, average, everyday women who carry the babies and bring life into this, our world. Recognize pregnancy and the bodies that create life for what they are: miracles.
RELATED POSTS
1. Rethinking Stretch Marks—Our Mom Tattoos
2. Photos Of Mariah Carey's New Post-Baby Body! Let's All Feel Craptastic We STILL Have Our Baby Weight!
3. Beyonce's Post Baby Body is Round and Curvy —Just like We Husbands Like Them
4. And Now, the Part Where My Daughter Starts Hating Her Bootylicious Butt 
5. Beyonce Shed 60 LBs With Good Old Fashioned Exercise & Dieting
Mom. NY Times bestselling author. Pop culture ninja. Unapologetic lover of shoes, bacon and babies. Nice with the verbs. Founder of the top black parenting website, MyBrownBaby.