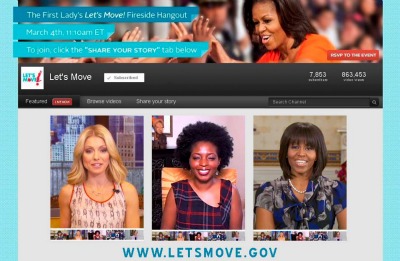 Michelle Obama celebrated the third anniversary of her landmark anti-child obesity program, "Let's Move," by participating in her first Google+ Hangout chat—and MyBrownBaby was right there with her, talking creative ways to get our kids moving, remembering childhood games like Double Dutch and Skellies, and even helping the First Lady Of the United States hit her Dougie.
The hour-long Google+ Hangout, hosted by Kelly Ripa, featured questions from a panel of parents, fitness experts and even a classroom of third graders, who showed Mrs. Obama what they were having for lunch and asked her what her favorite dance is. I got to pose three questions; the one that meant the most to me involved asking the First Lady how parents who live in unsafe neighborhoods can get their kids moving out in the fresh air, even when they stand in fear of the dangers that come with urban living. Her answer was everything.
Mrs. Obama was, as expected, gracious, kind, thoughtful and fun. I promise you, when she encouraged us to Dougie, I cracked up and did a mental check-off of this line on my Bucket List: Do A Wicked Mom Dance With Michelle Obama. SCORE!
Here, I present Michelle Obama's Google+ Hangout chat in its entirety. Enjoy!
RELATED POSTS:
1. Michelle Obama's Hair: FLOTUS Bangs Are Sexy, Grown and Inspiring For Moms
2. First Look: Michelle Obama's New Book, "American Grown," Plus Her Notes On Being A Mom
3. Candy Apples, 12-Inch Subs and Quarter Waters: 3rd Graders Lunches = One Step Closer To Type 2 Diabetes 
4. Dear Michele Bachmann: Shut Up About Black Moms and Breastfeeding
Mom. NY Times bestselling author. Pop culture ninja. Unapologetic lover of shoes, bacon and babies. Nice with the verbs. Founder of the top black parenting website, MyBrownBaby.