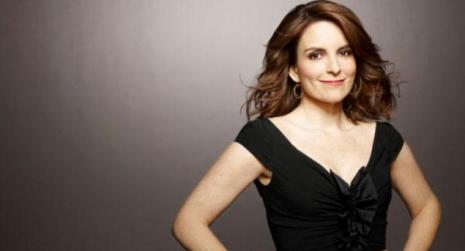 Tina Fey's 7-year-old daughter Alice "lost her mind" over Quvenzhané Wallis, the Beasts of the Southern Wild actress who, at age 9, became the youngest ever to be nominated for a Best Actress Oscar—but Alice's mama, one of the most talented and respected comedic writers/actresses/producers in the game, is deading any desire by her daughter to follow her mom into the business.
Fey told PEOPLE magazine that when it comes to her kids getting into showbiz, she's intent on "holding them back," despite that they see the "exciting life" she leads co-hosting the Golden Globes, creating and running her award-winning show, 30 Rock, and acting on the big screen, including in her upcoming flick, Admission.
Fey jokingly shut down her daughter's starry-eyed desires when, during an Oscar viewing party at their home, Alice, who had a cameo on one of the final episodes of her mom's 30 Rock sitcom, got a gander of Quvenzhané and yelled, "There's a 9-year-old?! There's a 9-year-old?!"
Fey's response? "Let it go. Step away," she joked. "I made her write out a poll so everyone who came to our Oscar party had to [vote] 'Should Alice be allowed to be in movies?' And I was the only person that said 'No.' I was like, 'Unfortunately for you, I am the only vote that counts.'"
Say word, Tina Fey. I raise both my hands to say that after 20 years of watching the sausage being made in the journalism and book publishing industry, I don't ever want my daughters to do what I do for a living. Yes, I've had the great fortune of having a pretty successful career, but the amount of mess that comes with being an artist who has to entrust my talent/words/ideas/art to an industry that increasingly devalues it, I wouldn't wish on my worst enemy. Well, maybe a few of my enemies. But definitely not my children—no matter how gangsta their writing game is.
Yes, they can write. I can see this, and I'm not just saying that because I'm their mom. But as the woman who helped give them life and loves them with abandon, I want better for them. Like most parents want for their kids. Like I'm sure Tina Fey (who, by the way, is my freakin' hero and best friend in my head) does for her daughter Alice and her 19-month old baby, Penelope. I wouldn't be surprised if she's pondering the same professions for her girls as I am for my own: engineer. Doctor. Scientist. Jobs that'll never go out of style and that'll always serve a need and be respected. Not art. Nobody respects art. Not enough, at least, for you to feed your family consistently. Just saying. Stick to your guns, Tina. Word.
Mom. NY Times bestselling author. Pop culture ninja. Unapologetic lover of shoes, bacon and babies. Nice with the verbs. Founder of the top black parenting website, MyBrownBaby.