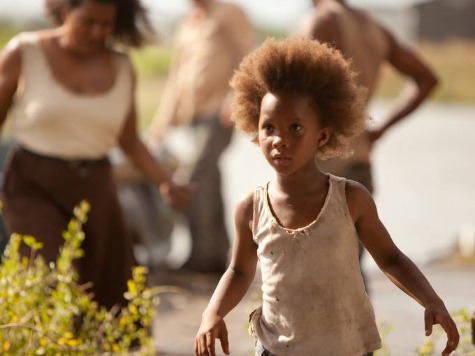 Joy for brown babies everywhere: Quvenzhane Wallis, the 9-year-old actress who made her film debut as a fiercely brave 6-year-old in the critically-acclaimed film (and Oscar-nominated!) Beasts of the Southern Wild, was nominated for best actress in a motion picture in the 2013 Academy Awards!
The Oscar nomination makes Quvenzhane, a first-time actress, the youngest thespian to ever be nominated in the category. She will be competing with Jessica Chastain (Zero Dark Thirty), Jennifer Lawrence (Silver Linings Playbook), Emmanuelle Riva (Amour) and Naomi Watts (The Impossible) for the statuette and top honors in her field.
I have not had the pleasure of seeing the film, which chronicles the mystical world of 6-year-old Hushpuppy, a child who is charged with saving her dysfunctional and dying father and their home in a ramshackle, isolated community on the Louisiana coast. But I do remember reading stories about this wonderchild, who showed up to an audition for Beasts of the Southern Wild and, at a tender age 5, so impressed the film's director, Benh Zeitlin (who, too, has been nominated for best director) that she not only won the part but convinced him he needed to rewrite the entire screenplay so that the story could be told through the mind of a 6-year-old. In this NPR interview, Ben Zeitlin explains the wonders of young Quvenzhane:
The moment [Quvenzhane Wallis] walked in — I have it on tape. You just see this wisdom and focus and tenacity and fearlessness in her eyes that she didn't have to say anything. It was like you could put the camera on her face, and you just see this whole world that she has inside of her that's so beyond her years. And I think that was the thing that really took us the most — that she is such a little kid in so many ways, but then at the same time you can pull her aside and tell her where her motivation is and tell her where she needs to emotionally pivot in the scene, and she completely internalizes it, and is able to focus and project it. It was an absolute miracle that we found her.
Round of applause for Quvenzhane Wallis! We at MyBrownBaby are so very proud of her and will be front and center and ready for the 2013 Academy Awards with our young 'uns, rooting for an Oscar win for Quvenzhane's stunning acting debut! Check out all things Quvenzhane at her fansite, Quvenzhane-Wallis.com.
RELATED POSTS:
1. Viola Davis and The Oscars: Anatomy Of A Best Actress Snub
2. T.I. and Tiny's Family Hustle: Sons Major and King Harris Get Ready For Their Star Turn (VIDEO)
3. Esperanza Spalding's "What A Wonderful World" At the Oscars (Video)
Mom. NY Times bestselling author. Pop culture ninja. Unapologetic lover of shoes, bacon and babies. Nice with the verbs. Founder of the top black parenting website, MyBrownBaby.