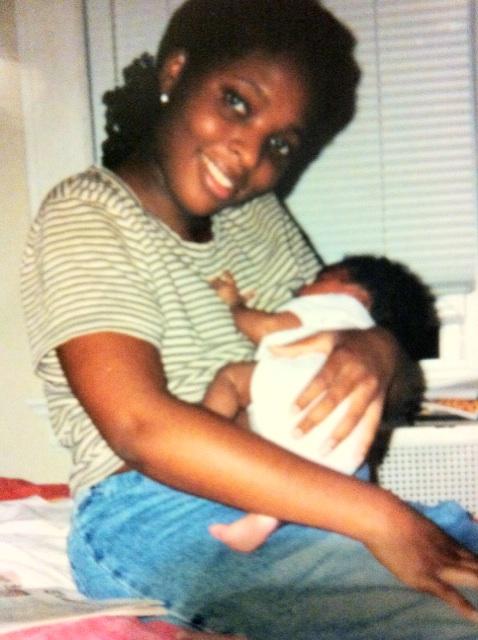 Just a few months after the Centers For Disease Control reported a rise in both the numbers of African American mothers breastfeeding and the length in which we're forgoing formula for the breast, the Department of Health and Human Services is putting its muscle behind helping to improve those numbers even more by launching It's Only Natural, a new website geared toward giving support to black moms-to-be as we ponder how we'll feed our babies. The site aims to dispel myths about breastfeeding and arm moms-to-be with encouragement and the solid information we need to understand the benefits of breastfeeding and spread the word to family members who may not be supportive of our choice. There are some amazing videos on the It's Only Natural site, plus helpful tips, printouts and links to resources—everything we need to to help make our breastfeeding decision and journey successful. Check out the It's Only Natural website here.
If you don't follow Luvvie Ajayi on Twitter (@Luvvie) or read her blog, Awesomely Luvvie, I'm going to need you to get your life. Today. Especially after you check out her hysterical post on how Honest Company, Jessica Alba's eco child gear firm, threatened to take down @HonestToddler, a popular satirical Twitter account that Alba's company claimed was infringing on its brand. Luvvie paints a delicious picture of a toddler who triumphs after a big corp tries to slap him around. "The moral of this story is that Goliath, don't come for David because David might be small but he got peoples. Honest Toddler wins," Luvvie writes, adding, "JUICE BOXES FOR EVERYONE!" Read Jessica Alba's Honest Company Tried to Come for Honest Toddler here.
I adore Tara Pringle Jefferson. Really, I do. Her blog, TheYoungMommyLife.com, about what it takes to make it as a young 20-something mother in America, is thoughtful and scary good, not just because she speaks to an audience that often is ignored, stereotyped and misunderstood, but because the lessons Tara shares really do apply to any mother, no matter her age, background, economic situation or marital status. I really connected with one of her latest blog posts, Lessons My Kids Taught Me: Believe You Can And Then Go For It. Very inspirational, and definitely a lesson we could all stand to learn.
The Motion Picture Association of America has announced a revamped ratings system, thanks to Vice President Joe Biden, who, after the tragedy at Sandy Hook, met with the MPAA and the National Association of Theater Owners to discuss setting up a new system more specific to each film. Under the new guidelines, descriptions of violence, language and sexual content will appear next to the rating in a "check the box" form highlighting descriptions of why a movie received a certain rating. The campaign, according to the Hollywood Reporter, also includes a new poster that will be displayed at theaters nationwide, plus this PSA.
PSA from FilmRatings.com on Vimeo.
A moment of silence and a fist in the air: De La Soul, one of MyBrownBaby's favorite hip hop groups EVA, has a new single out on iTunes and an upcoming album—their first since 2004. According to RollingStone, the group plans to release one single and video per month until its album, You're Welcome, debuts this fall. To hold you over until then, check out the single, "Get Away [Featuring the Spirit Of the Wu]" below. Follow De La Soul on Facebook, Twitter and Instagram.
See anything interesting about black motherhood and parenting at your favorite sites? Drop that link in the comments section! We always appreciate a good read here at MyBrownBaby!
Have a fantastic weekend!
Mom. NY Times bestselling author. Pop culture ninja. Unapologetic lover of shoes, bacon and babies. Nice with the verbs. Founder of the top black parenting website, MyBrownBaby.