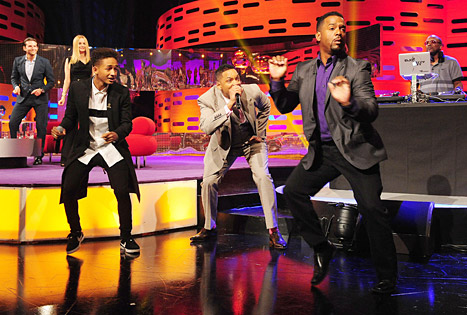 Okay, so can I just tell you that if Will Smith and his adorbs son, Jaden Smith, ever decide to do a concert together, the whole arena would be filled with mother/daughter sets, with me and my girlpie, Mari, all up in the front row? Please believe: I love me some Will Smith—always have. And Mari will straight box somebody over Jaden, whom she adores almost as much as she does Mindless Behavior. (Almost.) Which explains why the two of us will be at the movie theater tonight to see After Earth on its opening day with every last one of her girlfriends. Early birthday present. The best kind.
Almost as good as this video I stumbled upon on Facebook. I won't ruin it for you by telling you what's in it; you'll have to watch it for yourself. Just know that Will and Jaden will put a huge smile on your face, and DJ Jazzy Jeff, Alphonso "Carlton" Ribeiro and The Sugarhill Gang's  "Apache (Jump On It)" are all involved. Hit like if you dig it as much as I do.
Have a fantastic weekend!
RELATED POSTS:
1. Jada Pinkett Smith Shares A Touching Photo Of Willow And Will
2. Willow Smith's Shaved Head: Why Does This Child's Short Haircuts Get Black Folk So Riled Up?
1. Willow Smith & The Stripper Pole: Kids Will Be Kids—Even Will And Jada's
2. That New, New: Willow Smith, The Hair Whip, and Coloring Outside the Lines
Mom. NY Times bestselling author. Pop culture ninja. Unapologetic lover of shoes, bacon and babies. Nice with the verbs. Founder of the top black parenting website, MyBrownBaby.