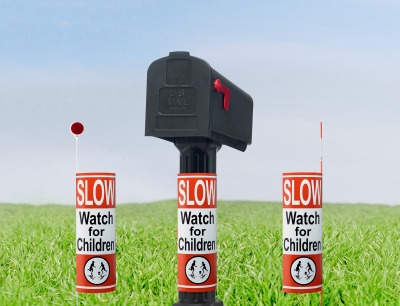 Child Safety Sign 360 Degrees, a self-installable sign warning drivers from every direction to slow down and watch for children, sponsored this post.
We spent a whole lot of time talking to Sweet Baby Jesus behind our neighbor Danny. I mean, nice kid. But he had about as much sense as a baby billy goat. And when he got his license and the keys to that white Mustang?
Whoa.
Overnight, that then-16-year-old turned our sweet suburban subdivision, with its beautiful lake and it's picturesque, flower-spruced main road and quiet cul-de-sacs into the last leg on the Indy 500. You could hear him coming—that rumble of the engine, that screech of his brakes, his music blaring louder than that piping through the front row speakers of a hyped Grateful Dead concert.
And when he came around that bend by the lake and that street opened up to the wide, long strip of road through our neighborhood, all bets were off: senior citizens, kids, dogs, stray squirrels—none of them mattered. Danny was going to gun it.
Speed limit? 20 mph. Danny's speed limit? Very clearly, he had none.
A couple of the neighbors complained to everybody but Danny. My husband and I sent word to the boy through our son, who sometimes hung out with Danny, for him to slow the heck down and save the racing for I-85. Somebody called the law a few times (as discussed in our neighborhood association meetings), but that only translated into police posting up in the cul de sac near the entrance and ticketing the law-abiding, more conscientious drivers for hitting two or three miles over the speed limit.
Danny never seemed to get caught.
Thank God he never hit anybody with that rumbling, speeding Mustang. But I can't help but to think that he would have slowed down a bit if he had some kind of eye-level visual queue reminding him as soon as he entered our neighborhood that he needed to pump his brakes. Big time.
Which is where the Child Safety Signs 360 Degrees would have come in quite handy. The sign is like a bright orange ball of awesome: its high visibility graphics, set against an orange and white background that, at first blush, looks like a traffic barrel or regulatory buoy, warns drivers from every direction to "Watch For Children" and drive "Slow." The sign, with its unique patent-pending design, easily attaches around mailbox posts, outdoor light posts, fences, driveway reflector stakes and even tree trunks, making it easier to place the sign at drivers' eye level, where it practically screams, "Hey! Pump the brakes! You know there are babies around here! Somebody can get hurt, doggonit!"
Bonus: the sign, at 28" x 23", attaches to posts by way of a two-way, all-weather adhesive, so you won't have to worry about that bad boy falling down, and its material, printing process and adhesive are far more long-lasting than those wimpy "Go Slow" yard signs that I've seen popping up in some of our neighboring subdivisions.
The Child Safety Signs 360 Degrees is available at HomeDepot.com or www.safetysigns360.com for $17.99, and if you order at least three, shipping is free. Get your neighborhood association to buy a few, or talk to the neighbors about pooling your cash to buy a handful for your neighborhood. The signs also are great for areas around preschools and day care centers, apartment complexes, neighborhood associations, schools, summer camps and recreation areas.  Safety Signs, Inc., which designed and produced the signs, is also making them available at a discount to certain nonprofit groups, like dance schools and churches, for fundraisers.
If I weren't so busy trying to hang mine around the neighborhood, I might consider attaching one to the hood of Danny's car. Or maybe his forehead. (I kid. Kinda.)
Do you have a "Danny" in your neighborhood? Do you want a Child Safety Sign 360 Degrees of your own to slow your "Danny" down? Leave a comment by midnight Friday, May 17, 2013, telling me why you'd like the sign and SafetySigns.com will send three lucky MyBrownBaby readers, chosen via Random.org, free signs. Good luck!
Mom. NY Times bestselling author. Pop culture ninja. Unapologetic lover of shoes, bacon and babies. Nice with the verbs. Founder of the top black parenting website, MyBrownBaby.