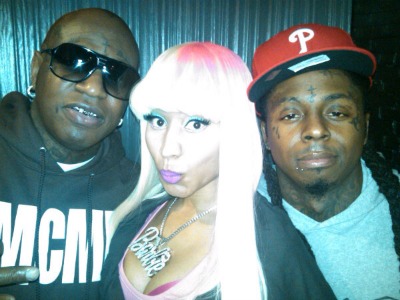 I officially give up on Black radio stations that play Hip Hop.
Seriously.
I'm over the disrespect. Finished with the blatant disregard for the audience. Totally through with their insistence on force-feeding curse-filled, misogynistic, lyrical porn through the airwaves and expecting this self-respecting, intelligent, passionate African American mother to take it to the head, sans complaint or concern.
What's got my Victoria's Secrets in a bunch? Last week, on my way back from dropping my kids off at school, I tuned into Atlanta's R&B/Hip Hop station V103 to listen to one of my favorite morning show hosts, Ryan Cameron and his cast of funny, down-to-Earth co-horts (whom I can't listen to with kids in the car) when on came a new song fresh off the New Orleans plantation that is Cash Money Records: Birdman's "Tapout," featuring Lil' Wayne, Future, Mack Maine and Nicki Minaj. What I heard was so foul, so vile, so effing inappropriate, that I actually had visions of smashing my own damn radio with a sledgehammer. Witness the opening lyrics to this musical madness, courtesy of Wayne:
If you hating you just need some p*ssy
She f*cked up when she gave me some p*ssy
I said I f*ck you better than that other nigga
She say Tune I'm about to c*m, I say I'm coming which you
She don't like them pretty niggas, see dirty niggas
She ride this d*ck, her t*tties jiggle, that's my pillows
That's because I sleep in that ho
Hit it when I wake up tell the pigs I say assalam alaikum ugh
My b*tch a choosy lover never f*ck without a rubber
Sweet yellow bone thing I call her honey mustard
P*ssy like a sea shell, d*ck like a V-12
She say I drive her crazy, I say just keep on your seatbelt
Bend it over bust it open for me
Baby bend it over bust it open for me
She say she love me she loves this d*ck
Come put that million dollar p*ssy on me make me rich
Tunechi
The chorus and the rest of the lyrics, including those from Minaj, a celebrity judge on one of the most wholesome family shows on primetime, American Idol, are equally crude. The curses and smut are smudged out, but it's clear what is being said and conveyed.
And V103, a top Atlanta radio station that bills itself "The People's Station," was playing that song at 8:24 a.m.
In the morning, y'all.
Not that playing "Tapout" at 8:24 p.m. would have made hearing it on radio any better, but really, what human being with sense and sensibilities and even a modicum of decency is okay with turning on a mainstream, free-to-the-public, anybody-can-hear-it-at-anytime radio show and hearing a rapper telling women to "bend it over and bust it open for me" before the eggs and coffee can settle in the belly?
I'm not mad at Birdman, Lil' Wayne, Future or Nicki, et. al. I expect this from these artists. For years, their vile, explicit lyrics have literally fueled the rap game, earning them accolades, street and club cred and hundreds of millions of dollars, all while encouraging practically every rapper who's come behind them to wax ad nauseum about phat asses, red bones, illicit drugs, alcohol abuse, cunnilingus, a variety of sexual positions, strip club antics and a consistent message that bitches ain't shit but hoes and tricks to be used at a man's discretion, whenever the mood strikes him, a woman's pleasure or consent be damned.
There is an audience for this, no doubt. And between YouTube, iTunes, Spotify, Pandora and all the other places fans can seek out and enjoy their favorite artists' music, finding these songs isn't all that difficult—nowhere as difficult, for sure, as it was when we were younger and we had to actually go to a record store (remember those?) and search through the stacks for the cassette tape (remember those?) of the music we craved.
So really, there's no reason radio stations need to play this mess on the radio—not when audiences can listen to it in their own privacy, and certainly not when the world is full of awesome music that doesn't involve debasing women, disrespecting our children and encouraging boys and men to treat us like mindless animals, good for nothing more than providing the holes they need to get off.
And still, Hip Hop stations—even those that claim to be for "the people," play it. Repeatedly. Unabashedly. With abandon.
Which makes them as complicit, if not more so, than the artists who traffic in this filth.
Please understand: I'm no C. Delores Tucker. I'm a journalist who values free speech—who is keenly aware of its import. But also, I am a woman, a wife, a mother, a consumer and a human being, and I expect that the businesses that I support treat me as such. I've asked Atlanta's V103, "The People's Station," time and time again via Tweets to be mindful of this as they choose the music they play during Ryan Cameron's morning show—a show that I thoroughly enjoy when the music isn't playing—but all I've gotten is… crickets.
And "bend it over and bust it open for me."
And Lil Wayne's "Good Kush and Alcohol," with Drake promising that he's okay, "Long as my bitches love me."
And Rihanna "pouring it up" in strip clubs where her "bands make your girl go down."
And Kelly Rowland directing her lover to give her "kisses down low, make me arch my back, when you give it to me slow, baby just like that."
As if great contemporary music by artists like Erykah Badu, Jill Scott, Maxwell, Mindless Behavior, Justin Timberlake, Ledisi, Raphael Saadiq, Dwele, Bilal, Common, Chrisette Michele, India.Aire, Janelle Monae and the like, plus newer artists we've never heard but who deserve a shot at a wider audience, don't exist.
I promise you, I'm over it.
If it's going to keep claiming to be "The People's Station," maybe V103 and other R&B stations that play Hip Hop could take some queues from Michigan radio station 103.7 The Beat and bar songs with foul lyrics that encourage and promote violence, drugs and the abuse of women from its playlists. Something tells me, though, that what the people who listen to the station want doesn't matter. That much is clear.
Which means: Black radio, you just lost one.
RELATED POSTS:
1. Lil Wayne's 'No Worries' Made Me Question Myself as a Dad To Black Daughters
2. Damn that Lil' Wayne–Now I Have To Live Without My Radio.
3. Radio Station Bans Rick Ross, Lil Wayne Over Sexist Rape Lyrics: 'Bout Time!
4. If I Hear R. Kelly On My Radio One Mo' 'Gin…
Mom. NY Times bestselling author. Pop culture ninja. Unapologetic lover of shoes, bacon and babies. Nice with the verbs. Founder of the top black parenting website, MyBrownBaby.