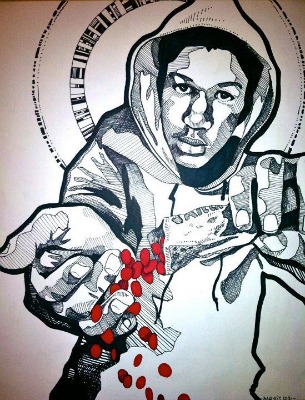 Some of the finest of art is painted with the broad colors of our pain: Billie Holiday's "Strange Fruit," would not have existed if not for white America's terroristic practice of lynching Blacks, and Richard Wright's "Native Son," was written as a meditation on the social conditions imposed on African Americans—certainly, the effects of America's racial divide. Clock pretty much anything in Spike Lee's film repertoire and pain is weaved all up and through it: School Daze, Do the Right Thing, Bamboozled, Four Little Girls, When the Levees Broke. Same for pretty much any of Hip Hop's earliest contributions. It is no wonder, then, that the George Zimmerman verdict in the shooting death of Trayvon Martin inspired some of the best blogging I've seen in quite some time—essays contemplating race, the perils of being a Black boy in America, the fears of parents raising African American children, the solidarity of parents of all colors and backgrounds, gun legislation and Stand Your Ground laws' effects on our children. Through the grief, contemplation and my own writings about the verdict here on MyBrownBaby, I've collected some of my favorite posts with the intention of sharing them here, in this space, with the most intelligent, thoughtful, supportive audience a blogger could ever have. Here, art inspired by Trayvon Martin, with my favorite passages and links to the entire work (click the title for the full posts):
TRAYVON MARTIN AND I AIN'T SHIT
By Ahmir "Questlove" Thompson, New York magazine
All the time I'm in scenarios in which primitive, exotic-looking me (6'2″, 300 pounds, uncivilized afro for starters) finds himself in places that people that look like me aren't normally found. I mean, what can I do? I have to be somewhere on Earth, correct? In the beginning (let's say 2002 when the gates of "Hey, Ahmir, would you like to come to [name swanky elitist place]?" opened), initially I'd say "no" — mostly because it's been hammered in my DNA to not "rock the boat" — which, since I wanna keep it real, means not make "certain people" feel uncomfortable. I mean, that is a crazy way to live. Seriously, imagine a life in which you think of other people's safety and comfort first before your own. You're kinda programmed and taught that from the gate. It's like the opposite of entitlement…
MY BLINDERS ARE OFF: WHAT TRAYVON TAUGHT ME ABOUT PARENTING
By Vanessa Martinez Bell, Spanglish Baby
This trial has taught me to wake the hell up. My kids are black, not Latino or mixed or even American. As their parents, it is our responsibility to prepare them for life. So, to hell with confidence and self image. Who cares if they speak Spanish. As a black boy in America, lessons on how to avoid chance encounters with people like Trayvon's killer is a matter of life or death. I won't be a foolish mom any longer. My kids deserve the life I gave them. When the time comes, right before Sex Ed and how to properly put on a condom, I'm enrolling my kids in Being Black 101: Ways to Stay Alive in America…
A BLACK MOTHER'S LOVE: A LETTER TO MY SONS IN THE WAKE OF THE TRAYVON MARTIN MURDER
By Angela Burt-Murray, CocoaFab.com
Last year your father and I spent countless weekends taking the two of you to various bar mitzvahs held for your Jewish friends. We were happy to see you learn about their important rite of passage. But, when George Zimmerman shot 17-year-old Trayvon Martin we knew that at 11 and 13 years of age that it was also time for you to have an important rite of passage of your own. Steeped in generational tradition like the bar mitzvahs you attended, yours would not be like the lavish celebrations you'd attended; your rite of passage would be somber. It was time to talk to you about racism and the police…
TRAYVON
By David Simon, creator of HBO's legendary series, "The Wire," The Audacity Of Despair
Behold, the lewd, pornographic embrace of two great American pathologies:  Race and guns, both of which have conspired not only to take the life of a teenager, but to make that killing entirely permissible.  I can't look an African-American parent in the eye for thinking about what they must tell their sons about what can happen to them on the streets of their country.  Tonight, anyone who truly understands what justice is and what it requires of a society is ashamed to call himself an American.
WHAT GEORGE ZIMMERMAN CAN DO NOW
By Charles P. Pierce, Esquire
Some night very soon, if he so chooses, George Zimmerman can load his piece, tuck it into the back of his pants, climb into his SUV, and drive around Sanford, Florida looking for assholes and fucking punks who are walking through neighborhoods where he, George Zimmerman, defender of law and order, doesn't think they belong. He can drive around Sanford, Florida and check out anyone who is dressed in such a manner as might frighten the average citizen who has been fed a daily diet of "Scary Black Kids" by their local news and by their favorite radio personalities, and who is dressed in such a manner as might seem inappropriate to their surroundings as determined by George Zimmerman, crimebuster. He can drive around Sanford, Florida until he spots an asshole or a fucking punk and then he can get out of his SUV, his piece tucked into the back of his pants, and he can stalk the asshole or the fucking punk, the one who is in the wrong neighborhood, or who is dressed inappropriately, at least according to George Zimmerman, protector of peace. If the asshole, or the fucking punk, turns around and objects to being stalked — or, worse, if the asshole, or the fucking punk, decides physically to confront the person stalking him — then George Zimmerman can whip out the piece from the back of his pants and shoot the asshole, or the fucking punk, dead right there on the spot. This can happen tonight. That is now possible…
SORRY, MOM, By Wesley Hall, Facebook status
Man, I'm just glad I had a mom who gave me the realness from a young age. I can remember thinking she was so stuck in the past for telling me that I couldn't do or say or wear certain things, that I could not stay out as late as my white friends could, that I could not "experiment" with any of the things my white friends did. I struggled so much with her for trying to impress upon me the fact that I was different. Because I'm supposed to be. I lived in a nice house, spoke more than one language, was well educated and well socialized and I did not understand why I needed to constantly act in a manner designed to disarm another person's suspicions about me. But wow, I get it now. Every black kid has that moment where he has to decide to accept the armor that his parents present to him to get through life as an American black male, or walk around naked. And the crazy part is, it's probably something most people outside of the black community never see. I can remember my mom talking to me over and over and over again about what to do and who to call if I was ever picked up by a police officer. She made sure I knew that I needed to declare that I was exercising my Miranda rights rather simply evoke them without notice. If you were in JNJ your mom probably made you take a WHOLE FREAKING CLASS on how to deal with police officers and other people who were perceived to be threatening. And I say that to say that as scary as people think black males are, black males are conditioned to be ten times more afraid of everyone else. We're conditioned to be afraid of goin to certain parts of the country, afraid of people with certain political view, afraid of police officers, and sometimes even afraid of other black and latino males. The most sickening thing about this whole trial has been the deliberate campaign to rob Trayvon of his right to be afraid. I know I would have been. And I owe her the deepest of apologies for all of the times that I accused her of overacting or impressing a vision of a society long since passed on the one that exists today.
"WE'RE NOT RAISING TRAYVON: THE DIFFERENCE WHITENESS MAKES, By Heather Laine Talley, The Feminist Wire.
What I do know is that these perceptions don't just shape our thoughts and ideas, they find their way out into the world. They travel from the brain through the nervous system to the musculature of the index finger and into physical world through the barrel of a gun. These perceptions rip open the bodies of Black children and the hearts of parents who fear such outcomes for their Black boys and girls too. Some white feminists are raising children that look like Trayvon. Many more are not. But if we seek justice, none of us can wait to have sons that look like Trayvon to take action. When the lives of children hang in the balance, discomfort or fear can't lead to continued silence about issues that disproportionately impact Black women. And when there's been a long established history of bad allying, white feminists (myself included) need to get crystal clear that the ongoing and sustained violence directed at Black children is a feminist issue.
PARENTING ADVICE: WHAT TO DO WHEN SOMEONE PULLS A GUN ON YOU
By Joyce E. Davis, Enjoyceing Life
This Trayvon verdict triggered a prison break—jogged a purposefully banished memory of my own interaction with someone who'd pointed a gun at me. Someone who looked like my brother. It's still fuzzy, but whatever my reaction was to this threat, I survived it because of any and all of the following: God's protection, my parents' coaching, my common sense, the policeman's effectiveness and maybe even luck. I'm thankful for all…
WE ARE NOT TRAYVON MARTIN
a collection of essays by various authors, Tumblr.
It's not enough to know you aren't Trayvon. What will you do to change our country?
The artwork accompanying this post is by Amaryllis DeJesus Moleski. The cartoon is by Mike Luckovich for the Atlanta Journal-Constitution.
Mom. NY Times bestselling author. Pop culture ninja. Unapologetic lover of shoes, bacon and babies. Nice with the verbs. Founder of the top black parenting website, MyBrownBaby.