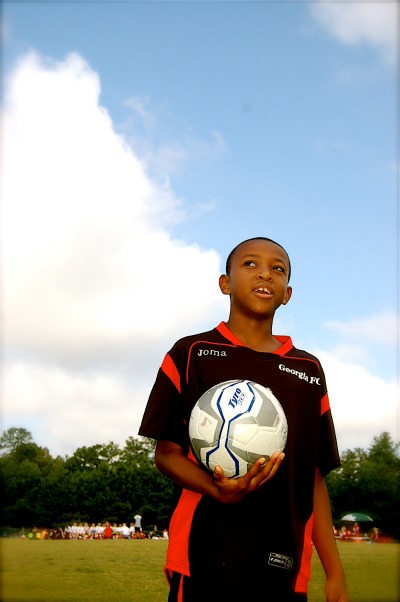 Editor's Note: In response to the George Zimmerman verdict and the flood of responses from its readers, ESSENCE magazine is launching #HeIsNotASuspect, a powerful social media campaign and movement aimed at stopping racial profiling of African-American males. The goal is to counter stereotypes of our children and to declare to the world that young Black men are valued and loved and not to be feared. In support of the campaign and the black men and boys in our lives, MyBrownBaby is lending its space to the cause by digging in the MBB crates for posts we've written about African American males we love. Today, we offer this 2010 post Denene wrote about her nephew, Miles. At the end, you'll also find links to posts about Denene's father, Jimy, her husband, Nick and her stepson, Mazi. We will be tweeting and facebooking each of these posts under the #HeIsNotASuspect hashtag, and we invite you to do the same. It does not need to be an involved post on a blog; it can be a simple picture and a short message of affirmations telling your loved one's story—what it is you love about him, his accomplishments, what he means to you. Then punctuate it with the #HeIsNotASuspect hashtag to add his name to the record. For more information on the campaign, check out Essence.com/heisnotasuspect.
This is my nephew, Miles.
Take a good, hard look at him.
What do you see?
He's athletic, sure.
And a handsome lil' devil, too.
And he likes to talk.
A lot.
What you should also know is that Miles is a smart one.
Brilliant, really.
And when he grows up and figures out how to use his powers for good, he's going to change the world, for sure.
I can feel it.
Anyone who spends a half second around him can.
And he's only 10.
More sooner than later, though, Miles, who is as tall enough to look his mama in the eye,
is going to start looking less like a little boy, more like a little man.
He'll still be athletic.
He'll still be talkative.
He'll still be the smart one.
He'll still grow up to change the world.
But will everyone else see what I see in this beautiful black boy then?
Just wondering.
This is my nephew, Miles. He is now 14. And just like I called it,
he is every bit as beautiful and kind and smart and amazing as I knew he would be.
#HeIsNotASuspect
Neither is my stepson, Mazi, whom I wrote about in "Black Boy Swagger, Black Mom Fear."
Neither is my husband, Nick, one of the many incredible fathers I celebrated in the post,
"A Special MyBrownBaby Love Letter To Black Fathers Getting It Right."
Neither is my father, Jimy, whom I wrote about in "Daddy's Hands."
None of them are suspects. They are loved.
Mom. NY Times bestselling author. Pop culture ninja. Unapologetic lover of shoes, bacon and babies. Nice with the verbs. Founder of the top black parenting website, MyBrownBaby.