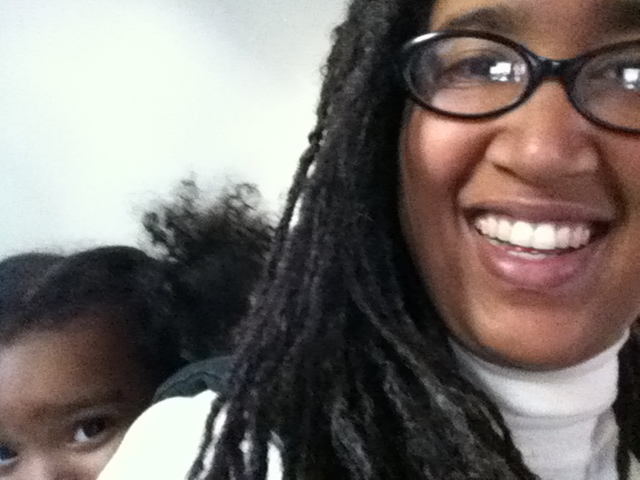 By AYA de LEON
I do not have time for racism this week. I'm a working mom, with a high maintenance marriage, I'm writing a novel, recovering from a car accident, trying to make positive changes around diet and exercise, and preparing for my daughter's fourth birthday. My time is limited. Precious. But racism has never been polite, timely or convenient.  My great grandfather was a tailor in the South. When a white man came into his shop and disrespected him then refused to leave, my great grandfather pulled out a gun and made him leave. By sundown, my great grandfather was on his way to being a tailor in the North. When I think of what our people have gone through, I can see that racism has always appeared—unexpected, unwelcome—and changed the shape of our lives.
I have dozens of creative projects that are in various stages of completion, and I am trying to put all my energy into launching a commercial women's novel.  It is not a children's book.  It is not a children's book about natural black hair.  It is not the children's book about natural black hair that I did a prototype for this summer.  It is not the book I got all inspired about when I was on vacation and one of my best girlfriends from the East Coast was visiting.  Now that I'm back to teaching, I don't have time to be inspired and I certainly don't have time to launch my natural hair project.  I have the prototype and can look at it, and read it to my daughter and show it to my friends, and I can promise myself that I'll get to it eventually.
But then along comes racism.
Seven-year-old Tiana Parker was recently sent home from a charter school in Tulsa, Oklahoma, for wearing dreadlocks.  The school rules stated that "hairstyles such as dreadlocks, afros, mohawks, and other faddish styles are unacceptable."  Are you kidding me?  Are you telling me that the hair that grows out of my baby's head, if combed and not processed to change the texture, is unacceptable, while the hair that grows out of a white child's head, if combed and not processed to change the texture, is acceptable? Just like the Ohio school in June that attempted to ban afro puffs.
We now have a perfect pair of beginning and end of summer bookends—attack afro puffs in June, dreadlocks in September.  I guess it is acceptable to wear white after Labor Day, as long as it's white hair. When it happened in June, I told myself, yeah, I'm gonna write that book one day.  But I didn't have the prototype yet.  Now that I have it in front of me, and I see a little girl crying about being sent home from school for having natural hair? I am so angry that I can't see straight.
I live in the Oakland Bay Area. While there are many problems with the schools here, hair isn't one of them. Many kids have natural hair—fros, locs, frohawks, afro puffs—and nobody's getting sent home for that. I have locs, my sister has a huge afro, my man has an unruly short fro that he wears to his tech industry job.
Starting when my daughter was two, I began to point out and compliment people on the street with afros or afro puffs. Locs and braids are wonderful, but they often hang down. I recall as a girl wanting gravity to affect my hair some kind of way, but it was not to be. So with my daughter, I began to point out and praise the people whose hair was spiraling up to the sky. Puffy.
"Did you see her beautiful puffy hair?" I would ask my daughter. "Look!  He has puffy hair just like us!" I would call to people on the street: "Hey! We like your afro!" Black people would stop and smile. They would compliment her hair back.
Mostly I keep my daughter's hair in braids, but one day she asked for an afro puff. I texted everyone we would see that day. "D has an afro puff today. Make a fuss." Everyone did. My daughter lately has requested to wear her hair "all wild" a lot.  She won't really let me shape it, so she looks a little like an extra in a plantation scene for the "Roots" miniseries, but I let her do it. The preschooler community is very open to different hairstyles. Soon enough, though, she'll know what that seven-year old now knows.  Many people think something is wrong, ugly, uncivilized, unprofessional, and bad about her hair.  While it's not true, it's hard not to internalize it because so many people— including black people ourselves—believe it (Thank you, Sheryl Underwood.  Or not).
So the Puffy project has been going on informally for a couple of years now.  And I have a book for my daughter with pictures of natural haired black people looking pleased and happy.  "That's me," my daughter says when she shows the book to friends.  "And that's my family," she says, pointing to the picture of the three of us. I live in a part of the country where she won't get directly attacked for having natural hair (just indirectly attacked via media now and peer pressure in the future). And I want that to be enough.
But it's not enough.  I want other kids to have access to this book. Racism, I have millions of reasons to be mad at you, but today I'm mad because I don't have time to launch a natural hair book for children right now.  It's 4:30 in the morning, and I'm sleep deprived, but I can't sleep because I know I need to do this. So today, I'm launching the Puffy Hair Project.  It will be a book of photos of children and families with natural hair. But I'm not a photographer, so I need photos.
If you'd like to be involved, please send a high resolution photo with the name and contact info of all of the adults and parents or guardians of the young people, as well as name and email of the photographer to PuffyHairProject@gmail.com.  I will send permission/release forms to those selected to be in the book, and they will get a free copy.
It won't end racism.  It won't protect black children from future attack by institutions.  But I believe that the best way to fight negative media is with positive media.  So send me your nappy, your puffy, your kinky, your curly.  Your wavy your dreaded your braided your cornrowed.  Your spiraling tresses, yearning to breathe free.  Priority will be given if your hair defies gravity.
Aya de Leon is an award-winning writer/performer/educator working in poetry, fiction and Hip Hop theater whose work has received acclaim in the Village Voice, Washington Post and American Theatre Magazine, and featured on Def Poetry, in Essence Magazine and various anthologies and journals. She is the director of June Jordan's Poetry for the People program at U.C Berkeley, where she teaches poetry, spoken word, and Hip Hop. She blogs about images of women in fiction, children's books, and writing craft in television at ayadeleon.wordpress.com. Connect with her on Facebook and Twitter.