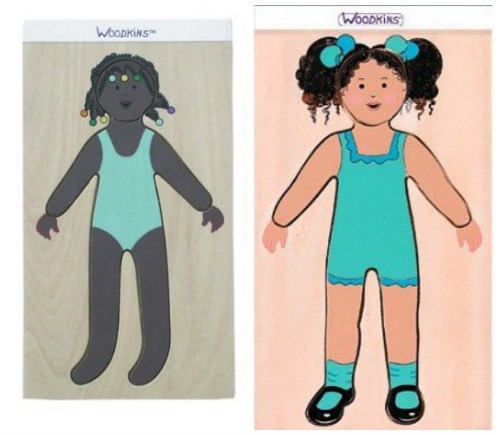 By AYA de LEON
So let me begin by saying there are an infinite number of shades of people of African heritage and they are all equally beautiful.  My own family spans the entire spectrum and it's all good.  Having said that, can a sista please get a chocolate brown doll up in here?
My daughter will be turning four.  Up 'til now, I've been laid back about dolls and just let them come our way.  Various brown dolls have joined our family in various shades.  One blonde haired blue eyed doll got re-gifted.  My daughter has blonde/blue friends, and will see more than enough women with those looks in her lifetime.  She was just a baby at the time.  I couldn't live with the doll because every time I saw her with it, she looked like a childhood racism experiment (which is the pretty doll, Jesse?)
By the time she was three, I was so glad I had offered the blonde doll to a more appropriate home. In the past year, my girl has gotten more interested in lighter, straight-haired dolls. I don't have any at the house, but she wanted to have the one at her grandmother's.  So I decided to go shopping for one.  My goal was to find a brownskinned doll that was totally irresistible, that did something interesting.
I went to the A Mighty Girl website, because I loved the advocacy work they did when Disney gave their Brave tomboy princess a makeover to turn her into a teenage hottie girl (over the objections of Brave's creator.)  I was thrilled to find several brown dolls, including the lovely Tiffany, who is a fabric dress up doll by Woodkins.  So I clicked on the link.  And Amazon sent me to a Tiffany Woodkins doll for sale.  Except she's many shades lighter, and instead of beaded braids, she has curly ponytails. What???
I called around to several Woodkins retailers, and the original (dark brown) Tiffany has been completely erased from the market.  The new Tiffany is perfectly fine, but I am trying to get dolls that look like my daughter, who is milk chocolate brown. We already have quite a few brown dolls that are lighter than her (including a legion of Dora the Explorer).  My goal is to start getting some dolls that are her color or darker, and that are clearly of African heritage. Why is that so difficult?
In the 70s, I had a Janie doll that was ebony.  Nowadays, it's almost impossible to find dark brown dolls.  And the one I did find was beige-washed.  They say she's a "classic Woodkins," but I think she's a remake.  Outrageous. Unacceptable. And I'm wondering when will we get to the day that we moms won't have to take to the internet to complain about such things—when we'll be able to want a brown doll for our kids and be able to buy one sans the exhaustive search and the maddening disappointment. Toy companies: do better.
Aya de Leon is an award-winning writer/performer/educator working in poetry, fiction and Hip Hop theater whose work has received acclaim in the Village Voice, Washington Post and American Theatre Magazine, and featured on Def Poetry, in Essence Magazine and various anthologies and journals. She is the director of June Jordan's Poetry for the People program at U.C Berkeley, where she teaches poetry, spoken word, and Hip Hop. She blogs about images of women in fiction, children's books, and writing craft in television at ayadeleon.wordpress.com. Connect with her on Facebook and Twitter.
Mom. NY Times bestselling author. Pop culture ninja. Unapologetic lover of shoes, bacon and babies. Nice with the verbs. Founder of the top black parenting website, MyBrownBaby.