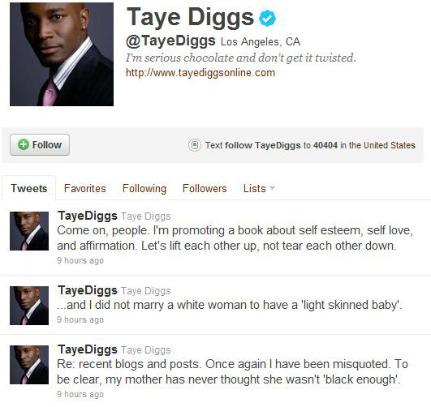 Taye Diggs took to Twitter over the weekend to claim he was misquoted when it was reported that his mother married a dark-skinned man because she thought she wasn't "black enough"—a claim of inaccuracy we at MyBrownBaby take seriously, as it was our interview and promotional giveaway of his new children's book, "Chocolate Me!" that the Private Practice actor is calling out. We at MyBrownBaby want to be absolutely clear: We did not misquote Taye Diggs.
Diggs did, indeed, tell MyBrownBaby that the accolades model Tyson Beckford received for being beautiful made him embrace his dark skin and, when asked a follow-up question, Diggs revealed that his mother, a fair-skinned black woman, was "seeking out  the dark because she didn't feel black enough. So it's a continuing issue."
Those were Diggs' words–not MyBrownBaby's. He said them in response to a MyBrownBaby question given him in a Q&A roundtable with four other bloggers. And, though we taped the interview, his book publicist took the unusual move of transcribing the interview and having it approved by Diggs before releasing it to us for our story and "Chocolate Me!" giveaway. Which means that not only do we have a tape, four other interviewers and a publicist have the tape, and Taye, his publicist, and five other people have the transcript. So I repeat: Taye Diggs was NOT misquoted.
Now, we can't speak for all of the other crazy that was running across the internet; for sure, Taye's discussion of colorism, self-esteem and its effects on him and black children, while valid, stirs up a host of hate among black folk. While we at MyBrownBaby absolutely abhor the nastiness and vitriol the mere sight of this man seems to conjure up, we have absolutely no control over the rumors, gossip and innuendo that others ran with when sites like Bossip, the Huffington Post, MadameNoire and HelloBeautiful followed our story. And like Taye, we are truly bothered that something as beautiful as a children's book meant to help African American kids deal with the sting of colorism and love themselves exactly the way they are turned into such a disgustingly ugly affair.
But what we will not tolerate from anyone is the suggestion that we, a stable of New York Times bestselling authors, Pulitzer Prize-winning journalists and respected writers, poets and media professionals, misquote interviewees and traffic in gossip and innuendo. That's simply not what we do, Mr. Diggs. By any stretch. In any event, we wish your book, "Chocolate Me!" the best of luck.
Mom. NY Times bestselling author. Pop culture ninja. Unapologetic lover of shoes, bacon and babies. Nice with the verbs. Founder of the top black parenting website, MyBrownBaby.