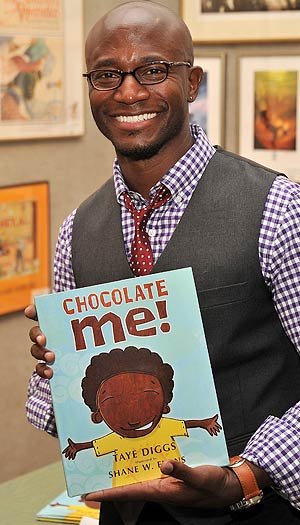 Taye Diggs, actor and author of the adorable new "love the skin you're in" children's book Chocolate Me,
says the most surprising thing about being a father is the intense love and fear he's experienced as a dad—but really, being a parent isn't all that hard.
While promoting his book on Yahoo's omg!, Taye acknowledges that outside of sleep deprivation, his wife, Broadway star Idina Menzel, had to handle the toughest parts of carrying and caring for a new baby. "What the woman goes through after pregnancy and the breastfeeding, that's something I'll never know," Diggs admits. "But for me, I can't lie. It hasn't been that tough."
Still, even at age 40, Taye says, he didn't really know himself until he became a dad. "I didn't know that I was capable of having these new feelings [and] I didn't know that I was capable of loving that much or experiencing fear on such a major scale. So that's been the most surprising."
Taye tells omg! that he and Menzel, whom he met in 1996 on the stage production of the Broadway play "Rent," do squeeze in date nights a couple times a week, but they also treasure spending time with their "amazing little boy." "We let that bring us together. You can kind of make family time romantic time."
I must say, Taye hit that right on the head: any mom can tell you that there's nothing sexier than watching your man play with and love on the babies. Toss in dinner and some kitchen cleaning, and he's almost guaranteed the business after the baby hits the crib. (Um, almost.)
Ahem.
Anyway, I can't wait to get my hands on a copy of Taye Diggs' new book. Chocolate Me
was inspired by an empowering self-love message Taye's mom gave him as a little boy after Taye, who'd been relentlessly teased for his dark skin and curly hair, asked why he looked the way he does. The words are a take on a poem he penned about the incident years later, while in college; the beautiful pictures are all illustrator Shave Evans, who created the MyBrownBaby favorites My Brother, Charlie (which I helped Holly Robinson Peete pen), Home Made Love, by bell hooks, and Olu's Dream, Evan's first self-authored children's book. I can't think of better presents to give the babies for Christmas this year!

RELATED POSTS
1. Daddy Denied: Jay-Z Says Fatherlessness Made Him Delay Becoming A Dad
2. A Special MyBrownBaby Love Letter To Black Fathers Getting It Right
3. Ice Cream Promises: A Son Years For True Love From & Connection With HIs Father
Mom. NY Times bestselling author. Pop culture ninja. Unapologetic lover of shoes, bacon and babies. Nice with the verbs. Founder of the top black parenting website, MyBrownBaby.