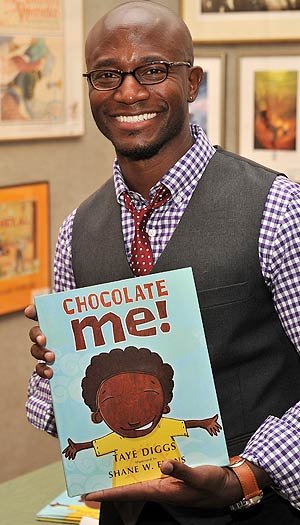 By NICK CHILES
Despite his heartthrob status, actor Taye Diggs said it wasn't until he was well into adulthood that he had recovered enough from the insults directed at his dark skin throughout his childhood for him to finally feel good about his looks. And the breakthrough came from a surprising source: a magazine article about model Tyson Beckford.
"When I saw Tyson Beckford hailed as this beautiful man by all people, that caused a shift in my being," Diggs told MyBrownBaby. "I remember literally waking up and walking the streets the next day and, because I had a bald head as well, feeling a little bit more proud."
Diggs spoke with MyBrownBaby as part of a roundtable discussion with several bloggers to promote his new children's book, Chocolate Me! (MacMillan). The book, overflowing with gorgeous playful drawings by award-winning illustrator Shane W. Evans—a college friend of Taye's—is an affirmation of the beauty of dark chocolate brown skin and the need for all children to love themselves the way God made them. Indeed, is there more ideal a message to celebrate on the birthday of Dr. Martin Luther King?
The painful incidents experienced by the little boy in the book are based on a similar experience Diggs went through when he was five. The mother in the book sweeps up the little boy and shows him how beautiful he is—"like velvet fudge frosting mixed in a bowl"—just like Taye's mother did in real life.
These issues have become even more meaningful for Diggs after the birth of his own son, Walker, two-and-a-half years ago. Diggs says he and his wife, Tony Award-winning actress Idina Menzel, talk often about how race will impact their mixed-race child—and here he talks with MyBrownBaby about colorism, raising a mixed race child and how Tyson Beckford made the world alright for dark skin brothers.
MYBROWNBABY: The scenes in the book, especially early on in the book, sound pretty brutal. When did you feel like your self-esteem had recovered from all of those early experiences?
TAYE DIGGS: When I got into high school I started to hear, just from the black community, everybody is more attracted to the light skin girls and the light skin dudes with the light eyes. And from within the race the light skin black people and lighter brown people would make fun of the darker people. So then it was a completely different kind of struggle. And then funnily enough it was when dark skinned men, and this was just from my perspective, there seemed to be a shift where all of a sudden we saw Denzel Washington, Wesley Snipes, Tyson Beckford. I'm still trying to figure out how this came to be. For me, when I saw Tyson Beckford hailed as this beautiful man by all people, that caused a shift in my being. And I remember literally waking up and walking the streets feeling a little bit more proud. And then after the movie "How Stella Got Her Groove Back," when I had my own personal moments of weakness, I just had to remind myself of all the people that really enjoyed that movie and just kind of lean on that.
TAYE ON COLORISM:
At five-years-old, none of us knew the can of worms we were opening… the little white kids who were making fun of me, they didn't know. Their whole questioning was coming from the fact that I was different. None of them ever used the N word or negro. They just knew, "ok, his skin is brown, my skin is white, his skin is white, his skin is white, let's make fun of him." It wasn't even in a nasty way at 5. But I obviously didn't take it well. And then the older you get, once that understanding came, then that was a whole different issue. Then you have to deal with serious self-reflection. My mother was very fair skin and my dad was dark. And back in my mother's day, she was seeking out the dark men because she didn't feel black enough. So it's a continuing issue. We've come a long way, but I don't think we're fully over it as a society.
TAYE ON HIS PARENTS INSTILLING SELF-ESTEEM: 
My mother and my father made sure that whatever we were going to see, whether it was a movie, play, TV, they always brought attention to black performers; without in any way being discouraging to other races. It was just this, "we want to make sure you understand who you are and regardless of what mainstream society puts out there or may think, this is what is happening. These are positive people that look like you and are doing great things so there's no excuse for you to not be doing things just as great."
TAYE ON WHY HE WROTE "CHOCOLATE ME!":
The idea to write this book came far before I was a father. I knew that I wanted to be a father, but that had no influence on the actual writing of the book. The inspiration came straight from more of an experience of being a son… my mother's son. That being said, once we got pregnant, my perspective completely transformed and though the words didn't change, though the message didn't change, how I felt about what I was writing changed and I just started to get really excited for the day that I could read my book to my son. And every time I continue to read the book to my son—now he can say the words along with me—words can't explain how it makes me feel.
TAYE ON RAISING A MIXED-RACE CHILD:
Me and my wife, we discuss this and we're still trying to figure some of this out just with Walker and what he should call himself and how he views himself. When I was growing up if you were half a shade darker than white, the white people would not accept you. You weren't white. These days, thank God, people are a little bit more accepting and people's views are broadening and it's not as accepted to just choose one, how you might have been forced to in the past. I think it depends on the parents' perspective and how they feel about those issues and how they kind of want to pass that down to their child. As proud as I am of my blackness, I think it's important to show Walker that he should be just as proud of his Jewish mother and all of the culture that that includes as well.
WANT A COPY OF CHOCOLATE ME?
Of course we encourage you to buy a copy—or two!–of  "Chocolate Me!" for your children's personal libraries; we at MyBrownBaby are passionate about supporting books for, by and featuring African American characters. But if you want to win a copy of "Chocolate Me!" with Taye's autograph (!), enter below. Oh yeah—you know MyBrownBaby's got you covered!  Who loves you, darlings? Good luck!
RELATED POSTS:
1. Taye Diggs Says Fatherhood Is A Little Scary—But Easy and Romantic
2. Fatherhood: Tray Chaney Of "The Wire" Celebrates Dedicated Black Dads In His New Video
3.We Need More Black Children's Books On Borders's Bookshelves NOW.
4. MyBrownBaby Mom: Holly Robinson Peete
Mom. NY Times bestselling author. Pop culture ninja. Unapologetic lover of shoes, bacon and babies. Nice with the verbs. Founder of the top black parenting website, MyBrownBaby.