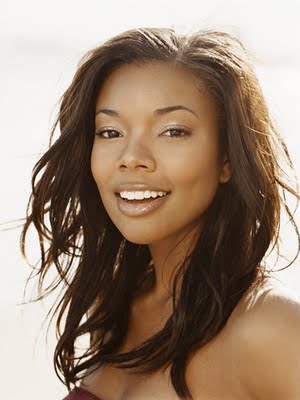 Actress Gabrielle Union, star of practically every MyBrownBaby favorite to ever grace the big screen and girlfriend of Miami Heat guard Dwyane Wade, says she may be ready for her toughest role yet: Mommy.
Union, who is readying her star turn in Tyler Perry's new flick, Tyler Perry's Good Deeds, tells Ocean Drive magazine she never thought about having kids—until now. "I mean, they're great in theory, but I never imagined having one [myself]. Maybe over the next five years I could wrap my brain around becoming a mother and what that would mean in terms of sacrifice and dedication," Union says in the cover story. "I don't do anything impulsively, so more toward the five years out than the one-year."
Union, 39, is getting in plenty of practice with D-Wade's children, Zaire Blessing Dwayne Wade and Zion Malachi Airamis Wade, two young boys from his previous marriage. She's often seen hanging with the boys and Dwyane around the Miami area, where Dwyane lives with his children. The two, who grace the February cover of Essence magazine, say that they're not rushing to get married—both have been through divorces—and say they want their next march down the aisle "to be right." But Union acknowledges she would be ready for all that comes with being a mom, including putting her kids before her career. "When you prioritize children over yourself, your brand and career, wants, needs, hurts, desires, you always win."
Yes indeed, you do. And clearly, Gabrielle Union is learning firsthand how to do just that from Dwyane Wade, a loving dad who, in winning custody of his sons from ex-wife Siohvaughn Wade, said his most important job was being a father to his kids. A baby produced in love between Gabrielle and Dwyane would be a lucky baby, indeed.
RELATED POSTS:
1. Queen Latifah Wants To Be A Mom—Says She'll Adopt
2. Nia Long Shows Off New Baby Kez
3. Viola Davis & Sandra Bullock's Kids Sitting In a Tree…
4. Then I'll Say It: Congrats, Sandra Bullock AND baby Louie!
Mom. NY Times bestselling author. Pop culture ninja. Unapologetic lover of shoes, bacon and babies. Nice with the verbs. Founder of the top black parenting website, MyBrownBaby.