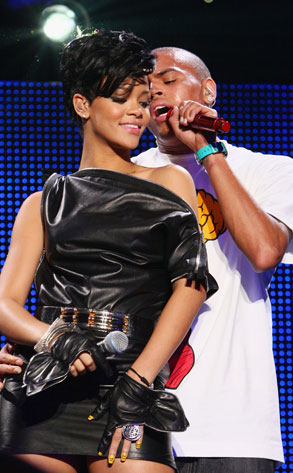 I heard the news this morning on my local hip hop station: three years after Chris Brown pummeled Rihanna's face damn near beyond recognition, the infamous pair have kissed, made up, and hit the studio together—a collaboration that's resulted in remixes of her sexually-explicit ditty "Birthday Cake" and his "Turn Up the Music."
The two, who first collaborated on her monster 2007 hit, "Umbrella," announced their new musical partnership via Twitter yesterday—quickly making #birthdaycake a trending topic just one day after Brown publicly wished his ex a happy 24th birthday and barely a week after he tweeted a middle finger to critics who shunned his 2012 Grammy Awards show performances and Best R&B Album nod.
Clearly, Rihanna wasn't kidding when she told Esquire magazine that she no longer resents Brown and enjoys his music—a move-it-along sentiment that Chris Brown has wholly embraced and repeats in violent outburts and verbal tantrums anytime someone questions whether he's truly repented for beating the crap out of his ex-girlfriend. If there's any confusion, consider the "Birthday Cake" lyrics:
Chris Brown:
Girl I wanna f*** you right now (right now)
Been a long time, I've been missing your body
Let me let me turn the lights down
When I go down, it's a private party
Ooooh, it's not even her birthday
But I wanna lick the icing off
Give it to her in the worst way
Can't wait to blow her candles out
I want that cake, cake cake….
Rihanna:
Remember how you did it?
Remember how you fit it?
If you still wanna kiss it
Come, come, come and get it
Sweeter than a rice cake, cake worth sipping
Kill it, tip it
Cake, fill it
Dead. Fish. Eyes.
Nevermind that this sexually-explicit madness was playing on my radio before 8 a.m.—seriously, who thinks this song is okay for public consumption with the kids' morning cereal? Show of hands? Anyone?—what was said before and after it was played was probably some of the most disturbing ish I've heard since, well, last week when a bunch of women took to Twitter to say they'd let Chris Brown punch them in the face if he agreed to kiss them after their beat downs. What's my problem? Our local deejays, no doubt mirroring the sentiment of all-too-many, went hard defending the Chris Brown/Rihanna reunion, saying ignorant things like, "Well, she loves him—always has, always will," and "They were young," and "If they've moved on, why can't everybody else?" My issue is that they, along with Chris Brown and Rihanna, have a huge fan base of mostly teens and young impressionable adults who are watching, listening, taking notes and acting accordingly—in this case, turning up their radios and and iPods and sucking in the message that you can beat the damn daylights out your girlfriend (or take a beating from your boyfriend), wait a little bit for the fall-out and the dust to clear, and then proceed as if nothing happened. At least until you get your ass beat again.
Think I'm overreaching here? Not really. Isn't the reoccurring theme with domestic abuse rife with stories of men who beat up their significant others, then beg for forgiveness and a second chance, only to, for whatever reasons, go on to assault those same women again, and again and again after they're "forgiven"? Aren't our neighborhoods full of women who, after taking those beatings, let their men back into their lives—for love's sake, or the kid's sake, or everybody else's sake—only to be beaten again and again and again?
Look at this picture. Now consider who did this to her face. Now think about what the two of them are doing with the release of a song together. What is the message being sent here—by Chris Brown, by Rihanna and by the people who suggest that these are just songs and the two are over it? As a mother of two young girls, I know that what's being sold here, ironically, during National Teen Dating Violence Awareness and Prevention Month, is much bigger than a song. More grand than a trending topic on twitter. Much more monumental than a morning jock's musings on matters with which they're not directly involved, and the thoughts of teenagers who, whether we like it or not, look up to Brown and Rihanna as role models for how to conduct themselves and especially for how to treat one another.
In a nation where 1 in 10 teens say they've been physically and/or verbally abused by their partner, it's about sending the message to a bunch of teenage boys that you can get like Chris Brown and slap, bite, punch and beat down your girlfriend, disappear for a little while, then come on back and not only be forgiven but embraced. It's about sending the message to a bunch of teenage girls that, like Rihanna, you can take a beating, forgive him and forget—forget enough to not only move on with your life, but invite your abuser back into it. And it's about all of us mothers, every last one of us, needing to hug our daughters and sons tonight and have a serious conversation about teen dating violence, forgiveness and the need for them to never, ever forget.
RELATED POSTS:
1. Chris Brown's Grammy Twitter Rant Shows He Still Doesn't Get It.
2. And Here I Was Thinking The Chris Brown/Rihanna Incident Was A "Teachable Moment."
3. I Made A Baby With the Devil: A Black Moms Story of Parenting and Domestic Abuse
4. Spurred by Rihanna and Chris Brown, One Teenager Tries to Curb Teen Dating Violence
Mom. NY Times bestselling author. Pop culture ninja. Unapologetic lover of shoes, bacon and babies. Nice with the verbs. Founder of the top black parenting website, MyBrownBaby.