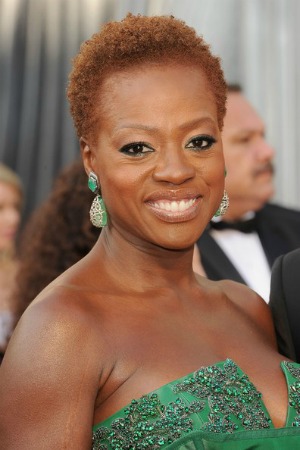 Academy Award nominee Viola Davis, star of the controversial film, The Help, went home empty-handed last night after losing the Best Actress Oscar to her acting idol, Meryl Streep—and I can't say I'm surprised.
As much as I thought Viola deserved the award for her star turn as Abileen Clark, the maid who quietly and defiantly raised her voice to tell the stories of "the help" in racist Mississippi, one need only consider the source of the Oscars, the constant bitching of black folk mad that the Academy Awards was considering awarding a black woman for portraying a maid, and Viola's own outspoken statements about Hollywood's race issue to understand why she lost last night.The voting members, according to a Los Angeles Times investigation released last week, is 94 percent white, 77 percent male and 86 percent over the age of 50—and I'm guessing they didn't want to be bothered with all the backlash that inevitably would have come from outspoken black intellectuals like Melissa Harris-Perry and James McBride, who over the past weeks have gone hard against the Academy and The Help itself for watering down the abject abuse and danger maids faced at the dawn of the Civil Rights Movement, and for, 40 years after Hattie McDaniel won Best Supporting Actress for her portrayal as a maid, considering handing over yet another statuette to a black woman for her portrayal as… a maid.
But perhaps it was Viola herself who most hurt her chances of winning Best Actress when, during her months-long Academy Award campaign, she made a point of taking a stand and lifting her voice about what black actresses face in the still lily-white Hollywood. Every time she found herself in front of a microphone, Viola reminded all those within the sound of her voice that times are still hard for black girls in Hollywood, where roles for African American women with dark skin and outside-the-mainstream beauty are sparse, underdeveloped, and meant solely to help white actors and actresses shine. She made a point, though, of acknowledging that despite Hollywood's faults—despite the odds—a black actress who masters her craft can make any portrayal, whether it's as a maid, a crack addict, a wise BFF or a love-starved single mother who doubles as the president, will be masterful at her job.
In other words, Viola Davis didn't play the game; she called Hollywood on its bull, reminded everyone that she's total badass at what she does, and showed up on the red carpet as her beautiful, natural self—chocolate, glistening and wearing her short, red-tinted afro, with her beautiful, chocolate glistening husband at her side. And honestly, I couldn't be more proud of her for lifting her voice, being sure of her talent and beauty and insisting that we all get on board and accept her for being exactly who she is.
Of course, all the hollering and screaming from black folk and the truth serum from Viola Davis probably made it really easy for the Academy's mostly white, mostly male, mostly old voting members to hand another statuette to Meryl Streep, who bested Davis last night for the Best Actress award for her portrayal as Margaret Thatcher in The Iron Lady. This takes nothing away from Streep, who is an incredible actress—one Davis says is her absolute favorite. But don't be fooled: the politics of the Academy Awards campaigning is no joke, and perhaps it's just easier to hand a less high-profile Oscar to a black woman who talks boob lifts and graciousness (Octavia Spencer, who won Best Supporting Actress for her role as "Minnie" in The Help) than it is to give an Academy Award to a black actress like Davis, who minces no words and tells it like it is. Here's to hoping that Viola gets to keep doing the latter—and shining in roles that not only honor her craft but represent black women well on Hollywood's big screens.
RELATED POSTS:
1. "The Help" Star Viola Davis Rocks Natural Hair In LA Times Mag And Talks Black Women In Film
2. I Was "The Help" And My Experience Taught Me To Dream BIG
3. Check Out the New Trailer For "The Help," Featuring Viola Davis
4. Viola Davis & Sandra Bullock's Kids Sitting In a Tree…
Mom. NY Times bestselling author. Pop culture ninja. Unapologetic lover of shoes, bacon and babies. Nice with the verbs. Founder of the top black parenting website, MyBrownBaby.