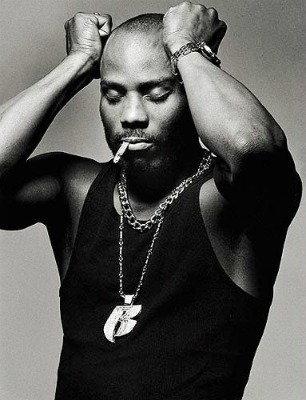 Jesus be a fence, a passport and a good-paying European concert gig, because rapper DMX is being sued for $1 million in child support. By an ex who claims to have bore his 10-year-old daughter. Who is alleged to be one of six—yes, one, two, three, four, five, SIX—out-of-wedlock kids born to he of "Get At Me Dog" fame during his almost 20-year marriage to the long-suffering Tashera Simmons, with whom he has four children together. Yeah, um, you do the math.
Patricia Trejo showed up in L.A. Superior court last week to argue against a motion DMX filed seeking permission to get a passport—a document accused deadbeats have to get special permission for when they're named in child support cases of this magnitude. Apparently, Patricia is over it and wants X to fork over what she says he owes her before X, who's long battled mental illness, drug addiction and repeated convictions, hits the road on his big comeback.
X's defense against paying child support? According to TMZ, he claims he's not convinced the 10-year-old is his, and he wants a paternity test before he pays one, single, thin dime. Yes. You read that right. The child is 10 and DMX is just now getting around to asking for proof that the little girl is his. *In my Forrest Gump voice* And that's all I have to say about that.
Look for DMX and wife Tashera on the upcoming VH1 reality show Relationship Rehab, a show that'll chronicle the couple trying to keep their marriage together in the face of all X's troubles.
RELATED POSTS
1. If Terrell Owens Thinks He's "In Hell," Imagine How His Kids Feel
2. Daddy Denied: Jay-Z Says Fatherlessness Made Him Delay Becoming A Dad
3. A Special MyBrownBaby Love Letter To Black Fathers Getting It Right
4. Ice Cream Promises: A Son Years For True Love From & Connection With His Father
Mom. NY Times bestselling author. Pop culture ninja. Unapologetic lover of shoes, bacon and babies. Nice with the verbs. Founder of the top black parenting website, MyBrownBaby.