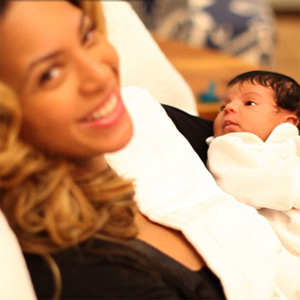 By KIMBERLY ALLERS
Dear White Women,
I know the breastfeeding world is all abuzz over reports that Beyonce breastfed her beautifully brown baby, Blue Ivy Carter, in public last week and that we consider this a victory for all nursing moms everywhere, but I need to claim this moment for African American women. And I need to ask you to step aside or better yet, step behind us in support, while we relish this extremely significant time.
You see, as you may have heard, black women have had historically low breastfeeding initiation and duration rates for over 40 years. And while we had made some solid gains in initiation, when it comes to the gold standard of infant nutrition, exclusive breastfeeding for six months, we have a lot of work to do. But when it comes to the power of celebrity breastfeeding role models—to normalize breastfeeding, add the lifestyle cache and make it trendy like has happened among white women—we have very few. The fabulous Laila Ali comes to mind. But not many others. And certainly nowhere near the A-list nature of your breastfeeding celebrity roster which includes: Angelina Jolie (on the cover of W magazine, no less), Gisele Bundchen, Madonna, Gwen Stefani, Nicole Ritchie (take breath), Jennifer Garner, Jenna Elfman, etc, etc,etc… You do the math.
Beyonce is our Angelina Jolie. Our Gisele, Madonna and Gwen wrapped up into one fabulously black and married woman.
Meanwhile, with all the news reports about Beyonce, and all the breastfeeding "advocates" talking about its impact on the nursing world, not one advocate mentioned the particular significance to black women–which is so striking since many claim to be interested in our breastfeeding plight.
Shame on you.
Nor could I find any major press report that included the perspective of African American women or interviewed a black breastfeeding expert (I'm always available).
Did Beyonce turn white when she started breastfeeding? Or are black women  invisible in the breastfeeding world except when to report the statistics of our lack of breastfeeding?
This is not going to work. And some of you white breastfeeding advocates, one of you, should have pointed that out. If not for us then please for our babies. Black babies are still 2.4 times more likely to die before their first birthday and the CDC says increased breastfeeding among black women could reduce this needless disparity by as much as 50%.
Having Beyonce as our  black breastfeeding moment potentially means that more African American women will know that breastfeeding is mainstream and beautiful and actively practiced by the celebrities we admire. The celebrities from our community. It means that more black women, particularly young women,  may consider breastfeeding their babies–something our community urgently needs.
If, therefore, more black babies are breastfed then more black babies have a chance to have healthier lives–fewer respiratory infections and lower rates of asthma and childhood obesity–health problems that are running rampant in our children.
If that, indeed, is what's at stake,  if that is the possibility within having Beyonce as ours, then I am putting my heart and soul and power and passion and weight and girth and that of my ancestors (who likely wet-nursed your ancestors) in asking you to help us declare this as our black breastfeeding moment.
Thank you.
Kimberly Seals Allers
P.S. Jennifer Garner just delivered a baby boy so you'll be back in the game fo' sho'.
Kimberly Seals Allers is an award-winning journalist, a leading authority on issues relating to mothers of color and author of The Mocha Manual™ series of books. This piece first appeared on MochaManual, Kimberly's pregnancy and parenting blog for African Americans.
RELATED POSTS:
1. Dear Michele Bachmann: Shut Up About Black Moms and Breastfeeding
2. Nipples and Ninny: An African-American Mom's Breastfeeding Journey
3. Beyonce's First Time Out With Blue Ivy Carter: Remembering the Newborn In Public Jitters
4. First Pictures Of Blue Ivy Carter: Check Out Beyonce & Jay-Z's Beautiful Baby!
Mom. NY Times bestselling author. Pop culture ninja. Unapologetic lover of shoes, bacon and babies. Nice with the verbs. Founder of the top black parenting website, MyBrownBaby.