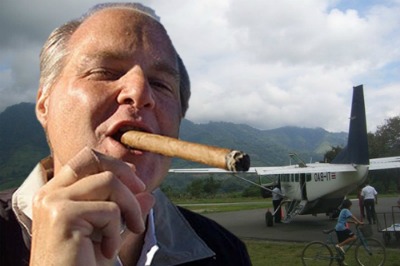 By NICK CHILES
Rush Limbaugh has been getting a lot of attention over the last week because of comments he made calling Georgetown law student Sandra Fluke a "slut" and a "prostitute" because she had the gall to speak out in support of birth control. It doesn't appear to me that the famously rotund talk show host is in the best shape, so I would like to suggest to him that he hit the treadmill immediately. Why? Because I am raising two outspoken young ladies in my household who I could easily imagine sitting in a Congressional hearing over the next decade or so and speaking out for women's rights. And if Limbaugh ever called one of them a "slut" or "prostitute," this very proud dad would be chasing his portly ass all over his home state of Florida.
Limbaugh has been widely criticized for his outrageousness—a process we seem to go through at least once a year when he says something ridiculous. And then, seconds after the furor dies down, prominent Republicans continue to line up to appear on his show and elevate his stature into some sort of right-wing kingmaker. But there's a contingent of men in the country that need to be a bit more vocal when Limbaugh attacks yet another woman: Dads.
As a Dad myself, I can say with certainty that I'm not going to have much tolerance for a grown man directing foul names at my daughters for exercising their first amendment rights to free speech. For being strong and courageous young ladies. I read that President Obama called Fluke and told her that her parents should be very proud of her. I agree. Every father should want to raise such an articulate, inteIligent daughter. But every true father also has the instinct to protect his daughters under all circumstances, to throw his body in the line of any fire they might be taking. From that perspective, I wonder what the POTUS might say to Limbaugh in a private conversation if the right-wing lunatic had used words like "slut" or "prostitute" in referring to Malia or Sasha. I suspect the conversation would not be pretty.
So let me put Mr. Limbaugh on notice now. My daughters are currently in training to be smart, articulate, proud and strong young ladies. In other words, your worst nightmare. And right behind them—not too close, but close enough—they have a father who is as proud of them as a father can be. A father who can see himself getting a little crazy if he perceives that they are under attack. And I know how to get to Palm Beach, where you do your show. Maybe I can pick up Sandra Fluke's dad on the way there.
NICK.
RELATED POSTS:
1. A Special MyBrownBaby Love Letter To Black Fathers Getting It Right
2. Herman Cain's Bizarre World: Where Decency and Respect For Women Doesn't Matter
3. All Up In Our Uteruses: Rick Santorum Says No To Prenatal Testing, Virginia Says Yes To Vaginal Probes
4. Girls Are Made of Snakes and Snails and Puppy Dog Tails, Too!
Mom. NY Times bestselling author. Pop culture ninja. Unapologetic lover of shoes, bacon and babies. Nice with the verbs. Founder of the top black parenting website, MyBrownBaby.