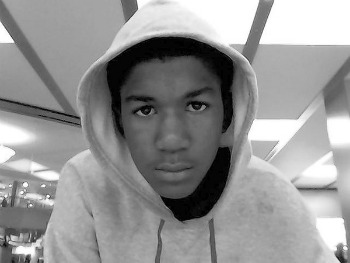 By NICK CHILES
While thousands of hooded protestors marched in Manhattan yesterday to show their support for murdered Florida teenager Trayvon Martin in a "Million Hoodie March," the Florida legislator who wrote the state's controversial Stand Your Ground law being used by the killer, George Zimmerman, said the law was not intended "to protect someone who is pursuing and confronting other people."
Meanwhile, the City Commission in Sanford, Florida, took a 3-2 "no confidence" vote in the city's Police Chief, Bill Lee, who has said over the past three weeks that he did not have the evidence to arrest Zimmerman in Trayvon's killing. The commission's vote now gives Sanford's city manager, Norton Bonaparte Jr., who is African American, the opportunity to fire or suspend the police chief.
What is clear is that the drumbeat of national outrage over Trayvon's death—a drumbeat largely created and sustained by social media and the blogosphere (MyBrownBaby was one of the first sites to write about the case)—has pushed the authorities in Sanford and beyond to take action in this outrageous affair. A grand jury is being convened next month to consider whether Zimmerman should be charged in the case. The FBI and U.S. Justice Department have opened an investigation. The players are on the move.
Dennis Baxley, the Florida state representative who co-sponsored the Stand Your Ground law (also known as the "castle doctrine") seven years ago, said the law was originally intended to protect homeowners who were defending their homes from looters following vicious hurricanes. Baxley wrote an editorial for Fox News.com and also was interviewed on MSNBC, where he said the Sanford police department has misapplied the law and said the legislature perhaps needs to revisit it.
"Mr. Zimmerman's unnecessary pursuit and confrontation of Trayvon Martin elevated the prospect of a violent episode and does not seem to be an act of self-defense as defined by the castle doctrine," Baxley wrote in the editorial. "There is no protection in the 'Stand Your Ground' law for anyone who pursues and confronts people."
Trayvon's parents made an appearance in Manhattan's Union Square Park at the Million Hoodie March, where they spoke to the raucous crowd.
"If Trayvon had been alive, he would be right here on these steps with you guys, rallying for justice," said his father, Tracy Martin. "Trayvon Martin was you. Trayvon Martin did matter. I just want New York to know that we're not going to stop until we get justice for Trayvon."
His mother, Sybrina Fulton, told the crowd that Trayvon was not doing anything wrong when he was killed. "Our son is your son," she said. "I want you guys to stand up for justice. To stand up for what's right. It's not about a black and white thing. It's about a right or wrong thing."
Yet another outrageous fact about the police misconduct on that fateful night was revealed yesterday: Zimmerman was allowed to leave the scene in possession of his gun—the murder weapon. Apparently these cops in Sanford had never even watched an episode of "Law and Order."
A big rally led by Rev. Al Sharpton is being held today in Sanford to protest Trayvon's murder and Zimmerman's non-arrest. The pressure continues to build. The nation is outraged. Let's hope the authorities down there understand what's at stake here: Young black boys can't be murdered in cold blood without consequences. It's been 57 years since Emmett Till. It can't go down like this. No, not anymore.
RELATED POSTS:
1. Teenager Killed in Florida by Neighborhood Watch Brings Terror To My Heart
2. The Nation Is Watching: the Killer of Trayvon Martin MUST Be Arrested (UPDATE)
3. 911 Tapes In The Trayvon Martin Killing Reveal He Begged For Help; Zimmerman Shot Twice (UPDATE)
4. Another Black Boy, Another Senseless Murder When Will It Stop?
Mom. NY Times bestselling author. Pop culture ninja. Unapologetic lover of shoes, bacon and babies. Nice with the verbs. Founder of the top black parenting website, MyBrownBaby.