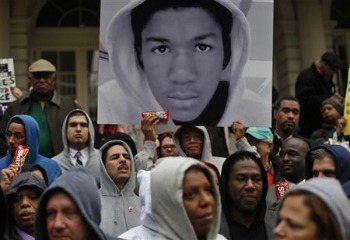 By NICK CHILES
As George Zimmerman walked out of jail late Sunday night after posting bail, and the city of Sanford tried to determine whether Police Chief Bill Lee still had his job, it gave us an opportunity here at MyBrownBaby to think back on how much the story of Trayvon Martin's murder has transformed the nature of social media in just seven weeks.
It also gave us a chance to reflect on MyBrownBaby's crucial role in lighting a spark that ignited this unbelievable story.
For me, the story began on the evening of March 7, when my wife Denene brought my attention to a story on Reuters. The headline read "Family of Florida Boy Killed by Neighborhood Watch Seeks Arrest." It was about a family in Florida who had held a press conference seeking justice for their 17-year-old son, Trayvon Martin, who had been murdered ten days earlier by a man named George Zimmerman, the captain of the neighborhood watch patrol in a Sanford subdivision called the Retreat at Twin Lakes.
As I wrote in the post I constructed the night of March 7, this story affected me immensely. I was outraged that Zimmerman hadn't even been arrested.
"These kinds of stories cut me deeply because I see my own life, my own son, my own circumstances, all up in the details," I wrote on MyBrownBaby in a post that appeared on the morning of March 8. "This is the fear that every parent of a black boy lives with—a fear that grows every year as they age and begin to leave your house without you alongside them. We have to let them go at some point, but it's so damn hard. And stories like this only make it harder."
This was a story that illustrated precisely why Denene created MyBrownBaby nearly four years ago: As a place where the parents of children of color could explore the unique issues and emotions that course throughout their lives as they try to protect and enlighten and ferry their children safely to adulthood.
After the Trayvon Martin case exploded and became one of the biggest media stories of the year, we were made aware of our important role in this saga. The Poynter Institute, an important journalism think tank, did a story about the genesis of the Martin story and credited MyBrownBaby with being one of the first national sites to write about it. A writer for The New Republic who had done an exhaustive timeline of the coverage informed me that I was the first writer in the country to craft a story that appealed to the public's emotions. Trymaine Lee of HuffingtonPost.com wrote a piece the same day, but he covered it as a straight news story, recounting the family's appeal but not enlarging the story to make readers understand and identify with the peril that black parents of teenage boys feel on a daily basis.
My story was carried by sites like TheRoot.com, which brought it to the attention of an even larger audience. Soon Charles Blow was writing a powerful column in The New York Times. From there, the story spread and grew and became a unprecedented phenomenon.
Seven weeks later, Zimmerman is out of jail. We await his trial. The story is not over, but it sure has changed—thanks to the power of the blogosphere and the magnetism of social media.
RELATED POSTS:
1. Teenager Killed in Florida by Neighborhood Watch Brings Terror To My Heart
2. The Nation Is Watching: the Killer of Trayvon Martin MUST Be Arrested (UPDATE)
3. Trayvon Martin, George Zimmerman, Black Friends & White Privilege
4. 911 Tapes In The Trayvon Martin Killing Reveal He Begged For Help; Zimmerman Shot Twice (UPDATE)
Mom. NY Times bestselling author. Pop culture ninja. Unapologetic lover of shoes, bacon and babies. Nice with the verbs. Founder of the top black parenting website, MyBrownBaby.