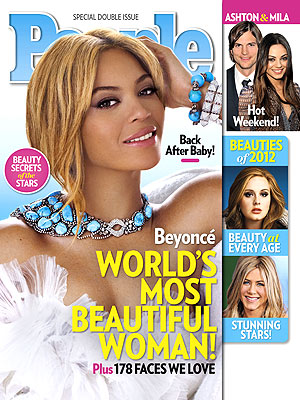 That new mommy glow is working for Beyonce: the 30-year-old super star, who welcomed her first child, daughter Blue Ivy, with husband Jay-Z, was named People magazine's World's Most Beautiful Woman, and she's crediting becoming a mother to her newfound title.
"I feel more beautiful than I've ever felt because I've given birth," Beyonce tells People in an exclusive interview due on stands this Friday. "I have never felt so connected, never felt like I had such a purpose on this earth."
The star, who's gearing up for her first post-mommy concert in Atlantic City in May, also reveals that she sings original songs to Blue Ivy and loves changing her diapers. And when asked whom she looks like, Beyonce quickly answers: "She looks like Blue. She's her own person." She adds: "The best thing about having a daughter is having a true legacy. The word 'love' means something completely different now."
This is the ninth time Beyonce has made the magazine's Most Beautiful People list, but her first time on the cover of the special double issue. In it, she'll also dish on how she lost her baby weight, reveal a few beauty secrets and, according to People, "set the record straight on all the rumors." Check out the behind-the-scenes video of Beyonce's Most Beautiful Woman in the World photo shoot here and the magazine's incredibly gorgeous photos, shot by photographer Jean Baptist Mondino, here. Congrats, B! We agree: truly, there is nothing that makes a woman feel more beautiful than becoming a mom.
RELATED POSTS
1. Beyonce's First Time Out With Blue Ivy Carter: Remembering the Newborn In Public Jitters
2. Beyonce's "Maniac" Work While Pregnant: Please, Baby—Slow Down!
3. Beyonce's Post Baby Body is Round and Curvy —Just like We Husbands Like Them
4. Jay-Z's Song For Blue Ivy Carter Is A Touching Tribute To New Parenthood With Beyonce
Mom. NY Times bestselling author. Pop culture ninja. Unapologetic lover of shoes, bacon and babies. Nice with the verbs. Founder of the top black parenting website, MyBrownBaby.