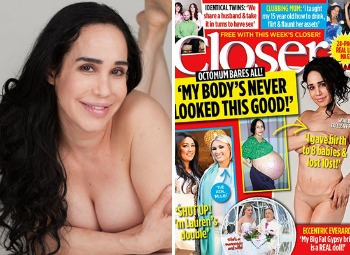 By NICK CHILES
"Octomom" Nadya Suleman told Matt Lauer on the "Today Show" this morning that she's been getting death threats after it was revealed that she's been forced to take food stamps to help feed her 14 children. Suleman said she gets $2,000 a month in government assistance—three years after she vowed to Lauer on that same "Today Show" couch that she would never take government assistance to help raise her children.
We wrote here last week about Suleman posing semi-nude for a British magazine called Closer to raise $10,000, which she said would go toward the purchase of a new home. We said that though we were sure the woman would be thoroughly trashed for her decision to take off some clothes, we acknowledged that times are hard and a mother might have to "hustle, hustle, hustle" to take care of the babies—even if she was saddled with 14 of them because of her controversial decision to have all of them through in-vitro fertilization (the last 8 at the same time).
Yes, this woman has become an easy target for her questionable decisions. She said on "Today" this morning that people are "foaming at the mouth" for child protective services to take the kids away from her—as if that would somehow lessen the burden on the government's coffers.
But death threats? Seriously?
Are there really people out there who are so far up Nadya Suleman's behind that they would take the time to conjure up the thought that this mother of 14 should be killed, for taking public assistance? In the midst of the worst economy in 70 years? I find that incredibly sick and disturbing. So as a MyBrownBaby public service announcement, let me say this to anyone who has thought about harming this woman: You need to go somewhere and get a life! And while you're at it, go find Jesus.
RELATED POSTS:
1. Hustle Hard: "Octomom" Nadya Suleman Poses In Panties To Make The Rent
2. But Seriously, When It Comes To Nadya Suleman, Who Put THIS Chick In Charge?
3. Wisconsin Senator Thinks Single Parenthood Is Child Abuse—And Proposes Bill To Make It So
Mom. NY Times bestselling author. Pop culture ninja. Unapologetic lover of shoes, bacon and babies. Nice with the verbs. Founder of the top black parenting website, MyBrownBaby.