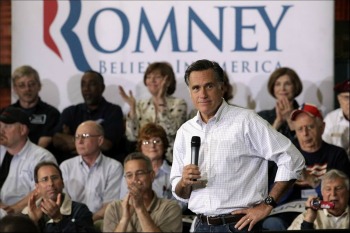 By NICK CHILES
Republican presidential candidate Mitt Romney faced a major character test on Monday—and he failed about as miserably as the wannabe leader of the free world could possibly fail. A Romney supporter stood up at a town hall event and suggested that President Obama should be "tried for treason." Romney stood mutely and let the craziness proceed without even a token gesture at stopping it.
Many observers are calling it a test of leadership, but it was really much bigger, much deeper than that. This was a moment when we got a narrow window into the kind of man Romney is, a little peek at the essence of his personhood. What we discovered is that Romney is a small, weak, desperate man. On Monday, at that town hall meeting in Cleveland, the Republican who would be president acted like a coward.
When our children are young, parents spend an inordinate amount of time working on their character, making sure that we are raising the kind of child who will speak out in the face of injustice. When his homies are bullying a defenseless kid, or leveling baseless, stupid attacks at a classmate, will he stand idly by and let the bullying continue, or will he bravely stand up to his peers—even if it might mean banishment or ridicule? These are the kinds of questions that keep parents up at night, wondering if we have done enough talking, teaching, coaching, so that our child might emerge on the other end as a person of strong character, one who will defend and support those who need it.
In other words, what we fear is that our children will grow up and be the kind of man that Mitt Romney apparently has become. Weak, small and desperate.
To read the rest of this post, please go to AtlantaBlackStar.com.
RELATED POSTS:
1. If Mitt Romney Doesn't Care about the Poor, He Doesn't Care about America's Children
2.Do You Realize How Motivated Stupid People Are? VOTE (With Our Babies In Mind)
3. Millionaire Ann Romney and the Fake Mommy Wars: What We Moms REALLY Want
Mom. NY Times bestselling author. Pop culture ninja. Unapologetic lover of shoes, bacon and babies. Nice with the verbs. Founder of the top black parenting website, MyBrownBaby.