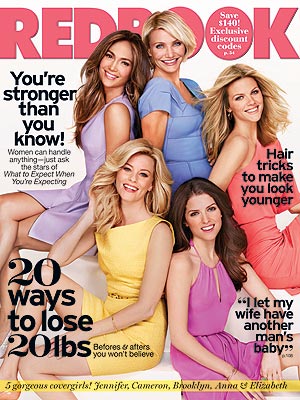 So Jennifer Lopez is on the cover of Redbook with the female cast of the new movie, What To Expect When You're Expecting, offering up her experiences with post-partum depression and raising babies, which is exciting stuff considering Latinas rarely find their way onto the covers of mainstream magazines, much less the extremely white-bred Redbook. But as I look at the magazine's cover—it also features Cameron Diaz, Hunger Games star Elizabeth Banks, model Brooklyn Decker and actress Anna Kendrick—I've totally got confirmation why this movie just doesn't interest me in the slightest.
I felt the same way about the book, mind you. Yes, I know it's radical for me to say this about the iconic, best-selling tome that breaks down the mechanics of pregnancy and birth. Still, it's truth. Though I am human, and I was pregnant twice with humans, and I gave birth to humans and I'm raising humans, too, there always was just something about "What To Expect" that made me feel like its chronicling of the very human condition of pregnancy did not apply to this particular human—a black woman who, by dint of history, experience, skin color, environment, cultural reference and biological function, had much more to consider when it came to my pregnancy and motherhood experience than the inner-workings of placenta, the inevitability of hemorrhoids, and the science of stretch marks. Of course, I read "What To Expect" from cover to cover anyway, because understanding what would happen to my body during pregnancy was necessary. But when it came to the experience—the true revelation of what to expect as I brought a black child into this world—I knew better than to consult "What To Expect," or any other mainstream (read: white) pregnancy or motherhood book for that matter.
Which of course, has me circling back around to why I'm just not all that pumped to see What To Expect When You're Expecting, the movie. I can dig what author Heidi Murkoff is saying about the universality of the movie's storyline; she says it was inspired by the movie Love Actually, a "story of love, in all its different forms"—between couples, friends, parents and their children, siblings and the such. And like love, she continues, the human experience of pregnancy is universal, "no matter what we do, no matter our racial, religious, socioeconomic profiles." When it comes to having children, Murkoff adds in a piece on the What To Expect movie site, "Moms and dads do it the world over, and as different as the parenting experience is in different countries and cultures, what strikes me over and over is how much the same it is, too."
The same, that is, until it's not the same. See, in it's haste to say we're all alike, the universality that mainstream media is always so quick to point out does a pretty awesome job of boxing in the narrative and rendering everyone who doesn't fit into that box—people who are white, heterosexual, reasonably well-to-do, suburban, thin, pretty (by pop culture standards), privileged—irrelevant. Take a gander of the cast. Consider the roles of the moms-to-be in the movie—one is a contestant on a celebrity; one is infertile and adopting from another country; one is an overly up-beat mom-to-be of twins married to a much older man; one is a food truck worker who gets unexpectedly knocked up by her chief rival; and one is a children's book author with intense feelings on breastfeeding and the role of mothers until she becomes a first-time expectant mom. None of the mothers are African American. And while I have not yet seen the movie, in the coverage I've read on it, none of the characters seem to have to stretch and think about what it means to raise a child of color in a country that still devalues their children's lives. None of them appear to be struggling with money (for real struggling, like, I don't have health insurance so I can't go to the doctor to make sure my kid and I are okay struggling). While I'm sure there's some "baby daddy" issues running through the story, I'm wondering how deeply this flick will delve into what it truly means to face pregnancy, birth and childrearing alone—or sans the "in this thing with you all day, every day" support from the fathers of their children. I wonder, too, whether there will be any storyline that taps into the dynamics of the in-your-face stereotyping mothers of color face practically every second of the day. Perhaps Chris Rock, who plays the head of a daddy group schooling dads-to-be on the ins and outs of raising kids with women, might slip in some insight. But from the looks of it, the mother of his children has been rendered invisible in the story—and maybe his authentically, unapologetically black voice is, too.
Which, I guess is realistic. That's the national narrative of black mothers. We are non-existent.
Forgive me for being so cynical about it all. What To Expect When You're Expecting, the movie, just might be a perfectly lovely romantic comedy with eye-opening commentary on pregnancy and motherhood. But if the cover of RedBook is any indication—Jennifer Lopez's insight on her personal bout with the "baby blues" notwithstanding—I'm not so sure I'm ready to plunk down $10 for a movie ticket, $8 for a small popcorn and $4.50 for one of those slurpie thingies to be ignored. Again.
RELATED POSTS:
1. Newt Gingrich to Poor Black Mothers and Children: Pick Up a Broom, Lazy Asses
2.  Tackling Black Infant Mortality Rates—Without Stereotyping Black Mothers
3. Paying Homage To The OB-GYN Who Escorted Me Into Motherhood
4. Going It Alone: Survey Says Black Mothers Get Little Help, Support While Giving Birth
5. Erykah "Badoula" And the Business of Birthing: Can Midwifery Help Stem Black Infant Mortality Rates?
6. Birthing While Black In the Jim Crow South Stole My Grandmother: Thankfully, Things Change
7. Birthing While Black: This African American Mom's Experience Was Anything But VIP
Mom. NY Times bestselling author. Pop culture ninja. Unapologetic lover of shoes, bacon and babies. Nice with the verbs. Founder of the top black parenting website, MyBrownBaby.