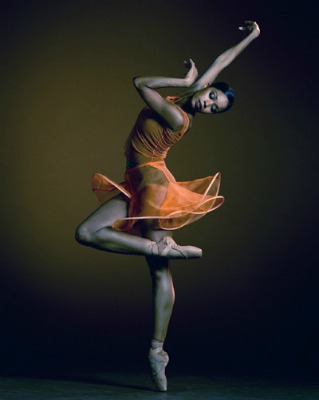 Have I told you lately how much I super heart Melissa Harris-Perry?  Her
self-titled show on MSNBC
gives me life—not just because the Tulane professor is absolutely brilliant, but because she is one of the rare TV political analysts who actually talks masterfully—and gives a doggone—about issues affecting women in general and women of color in particular. Such was the case this past weekend, when she featured ballerina Misty Copeland and violinist Kelly Hall-Tompkins in a discussion about the importance of the arts for black children, and dedicated a significant portion of her show to the pathetic Stand Your Ground law that threatens to send Florida domestic abuse victim Marissa Alexander to prison for 20 years for firing a warning shot as her husband attacked her.
I don't always get to tune into Melissa's Sunday morning show—sometimes, church calls. But when I do watch, I'm consistently tickled by the subjects she chooses and the mastery, wit and humor she brings to the discussion. She won me over months ago when she spent almost the entirety of her show talking to a panel of African American and Latina mothers about our value—our purpose in the upcoming presidential elections, and why our struggles make us a key voice that politicians need to pay attention to. Sure, some of my MSNBC favs, like Rachel Maddow (I'm a total Maddow stan) and Ed Shultz train their laser-sharp analysis on issues relevant to our every day lives, but there's something to be said for the nuanced perspective that comes when a smart black woman brings her experiences and thought process to the table.
Indeed, I was overjoyed this past Sunday when, in discussing massive cuts to the National Endowment For the Arts and other funds designed to help bring culture and the arts to underserved communities, Melissa featured ballerina Misty Copeland and violinist Kelly Hall-Tompkins, two African American women who've mastered their crafts in disciplines that rarely attract and employ people of color. My daughters sat mesmerized as they considered the wonders of a violinist who looks like them playing classical music in an renowned orchestra and a ballerina with grace and agility, whose skin and lips and nose reflect their own, twirling and leaping across the stage of a major ballet company. Their minds were stretched even further when Mari asked why a black ballerina and violinist would be on a political show—a question that wouldn't have occurred to her had the sight of three beautiful black women, talking about blacks in theater, ballet and classical music, not captured her attention. "When a child who looks like you is told she can't be a ballerina or play a violin because she's brown and the very funding that would allow her to take classes or lessons to help hone her natural talent is taken away, that's political baby," I told her. "Art, whether it comes in the form of a hip hop song, a concerto, a painting, a book, a poem or a ballerina on pointe is political."
Melissa wasted no time pointing out the politics, too, of the Marissa Alexander case. Alexander, a domestic abuse victim whose abusive husband was about to beat her down just a few days after she gave birth to their baby, faces 20 years in prison for firing a warning shot into her kitchen ceiling during the confrontation. Alexander asked for immunity under the Stand Your Ground law—the very one that George Zimmerman hid behind as he tried to get away with stalking, attacking, shooting and killing Trayvon Martin—but a judge denied Alexander's defense and a jury convicted her after just 12 minutes of deliberation. Melissa's discussion on her Sunday show employed the help of domestic violence victims, advocates and legislators who made quick work of putting a face on the laws affecting domestic violence survivors—laws that would let a white man get away with killing an unarmed black teenager, but refuse to protect a young mother from being prosecuted for shooting a ceiling to stop her husband from beating her in front of her children.
I encourage you to tune into Melissa Harris-Perry's program for a refreshing take on the day's news from a distinctive perspective that is much too rare, especially considering how many TV shows seek to degrade, humiliate and stereotype black women (nope—not gonna mention any names—but you know which ones I'm talking about). And for your viewing pleasure today, look at the videos below to catch up on Melissa's take on the Marissa Alexander domestic violence Stand Your Ground case in Florida and her interview with violinist Kelly Hall-Tompkins and an adorable group of young black ballerinas whose Harlem studio, shuttered because of a lack of funding, was saved by  ballerina Misty Copeland and, wait for it… Prince! Enjoy!
Visit msnbc.com for breaking news, world news, and news about the economy
Visit msnbc.com for breaking news, world news, and news about the economy
Mom. NY Times bestselling author. Pop culture ninja. Unapologetic lover of shoes, bacon and babies. Nice with the verbs. Founder of the top black parenting website, MyBrownBaby.