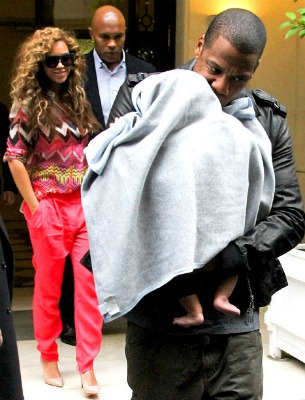 Okay, so yeah—I really was just looking for a reason to show off this picture of proud daddy Jay-Z hugging and loving on his baby girl, Blue Ivy Carter, while proud mommy Beyonce looks on. The snapshot came as pop culture's most celebrated new parents took their firstborn daughter to Paris to hang out with and watch Jay-Z perform with Kanye West on their Watch the Throne Tour—a jaunt that instantly makes Blue Ivy an international traveler at a mere 5 months old.
The picture instantly reminded me of the time when Nick and I boldly travelled to Paris with our then-20-month-old firstborn daughter, Mari, for a wedding. I know—fancy. That's definitely what we were thinking when we packed up our baby girl, a sweet little white dress sprinkled with lavender flowers, a tiny pair of white patent-leather Mary Jane shoes and as many bottles of milk as I could fit into my portable cooler for our four-day trip (pre-9/11, airplane bombers and our country's unforgivingly onerous "no-liquids" security gate rules) to witness our friends tie the knot: we were being bold. Fearless. And intent on showing our daughter just how big the world is—before she hit the age of two.
Of course, she doesn't remember a thing about it except that the weird statue guy on The River Seine scared the crap out of her while she lumbered at his feet. I think that's only because I told her about it, though. That's all I remember, really. That, her dress, and what became known as The Milk Situation. I swear to you, we couldn't find plain ol' milk in France to save our lives. There were no bodegas (New York's version of the corner store), the grocery stores sold only huge, glass bottles that we couldn't store in our hotel room, and the hotel was all, "um, we have Orangina—that's about it" when we asked—which meant panic whenever Mari wanted milk, which was at least a few times a day. Every morning when she woke and eery night before it was time for our baby to sleep, Nick would rush to a restaurant just down the street and convince the dude behind the counter to give him a cup of milk and I'd warm it us as quickly as I could in a portable bottle warmer back at the hotel and rock the girl pie while she slurped.
Today, it seems kinda stupid—that panic. But good God, it was everything when we were in Paris with a 20-month-old. The wedding was nice. I think. But we knew when we left Paris that we were going to leave the big international jaunts alone—at least until our baby was old enough to both be okay without her milk and appreciate the beauty of different. The beauty of this big, wonderful world.
We were blessed to be able to take our children to Paris in 2010—a trip they totally remember and, to this day, reminisce about.
What a lucky girl, Blue Ivy is that she'll get to see such things, unrestricted, during her childhood—from the protective arms of her daddy, Jay-Z, and her doting mother, Beyonce. I'm guessing they're not running around frantic, searching for milk for the baby. Or that, like our Mari, Blue Ivy won't remember a thing about this moment, except for this picture of her feet dangling from beneath a blanket. But soon will come the day when Blue Ivy will get to see the world—and the world will get to see her. Joy!
RELATED POSTS:
1. Traveling In Color: Finding Diversity and Opening Minds on a Paris Vacation with Kids
2. Wordful Wednesday: Summer in Paris With MyBrownBaby
3. Beyonce's First Concert After Blue Ivy's Birth: Getting Back To Work After the Baby
4. Beyonce's First Time Out With Blue Ivy Carter: Remembering the Newborn In Public Jitters.
Mom. NY Times bestselling author. Pop culture ninja. Unapologetic lover of shoes, bacon and babies. Nice with the verbs. Founder of the top black parenting website, MyBrownBaby.