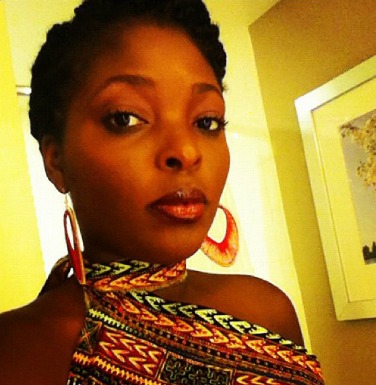 Yes, I tuned into what the Rickey Smiley Show billed this morning as the "SuperBowl of Ratchetness," last night's reunion episode of "Love & Hip Hop Atlanta," ready for the tomfoolery that is this cast of misfits, wanna-bes and deeply confused and troubled women who air out their dirty thongs for checks. I was all set to laugh and teach—I let my teenager watch "Love & Hip Hop Atlanta" as a cautionary tale on how not to conduct yourself with men, friends and in a business—but within the first five minutes of the show, I just found myself pissed, thanks to K. Michelle's nasty, base attack on the ages of her cast mates, whom she referred to as "old ass Harriet Tubman bitches."
Marinate on that. Old ass Harriet Tubman bitches. And as if invoking the name of one of the proudest, most heroic black women in African-American history to insult a fellow woman's age and looks wasn't enough, K. Michelle went on to say that cast member Karlie is old enough to have "marched with Martin Luther King back in 1968," and that she has a wrinkled neck. I'm not even going to get into what that girl said about Karlie's lady parts. Or how she later again reached into her bag of ageism insults to attack cast member Rasheeda when they got into a tousle over friendships, allegiances and lying.
This morning, the Atlanta Black Star took the words right out of my mouth:
The line was shocking in its ignorance—first, believing that she would be insulting another black woman by calling her Harriet Tubman; second, by using Harriet Tubman's name in describing a woman that she is trying to call old and ugly, Michelle has reduced a woman who is legendary for her courage and perseverance to a superficial representation of female unattractiveness. It's the kind of line that should reduce a parent to tears were you ever to hear it coming from your child's lips, because it would show you that you have failed your child in so many ways.

What has become clear watching the ridiculous proceedings of "Love & Hip Hop Atlanta" is that these women have no conception of what it means to realize they represent their mothers, their families, their communities, their race whenever they walk out of the house—regardless of whether they are television stars or just regular girls on the block. There's just no escaping this fact. Apparently nobody ever told them that.
Clearly. And that K. Michelle made a point, as ABS pointed out, of "dragging the show down deep into the garbage-strewn waste waters of gutter television" with her ridiculous digs at women's age just took this 43-year-old mother of three all the way over the edge.
Full disclosure: This chick lives in my building. I've seen her in the morning. Doing that looong walk of shame down the hallway. With the runny make-up. And the ratty blonde weave snaking across her shoulder. And the push-up bra and six-inch stripper heels. And the skin-tight pants. I've also seen her without all these "make me beautiful" trappings. The last thing she needs to be doing is calling another woman ugly and old. Trust.
Instead, what the 26-year-old young 'un needs to be doing is taking notes. Clearly, K.Michelle's never been around a 40-something woman before. Because had she, she'd know for sure that there is no one more secure, together, established, independent, focused and effing fly than a 40-something black woman. We're smarter. More confident. Sexier. And that, "I don't give a damn what you think" attitude you get?
The. Best. Thing. Ever.
I admit it took me a long time to get to this place—to discover that the older I get, the better I am, physically, mentally, emotionally, spiritually. I wrote about this very thing on my 43rd birthday. But since I'm almost 100 percent positive Miss Kimberly Pate can't really handle the big words,  perhaps this list will help her open her eyes. Think 40 is old and washed up? Say that to Mary J. Blige. Halle Berry. Angela Bassett. Salma Hayek. Jennifer Lopez. Jada Pinkett Smith. Diahann Caroll. Ruby Dee. First Lady Michelle Obama.
Every last one of them? Total Badass.
Simply put: 40+ is delicious. You should hope that you make it there, young 'un, and pray that if and when you do, your ugly ways and broke down hustle don't keep you from being as fly as any one of these women. Or hell, me.
I give K.Michelle and the rest of the ladies of "Love & Hip Hop Atlanta" a pass, though. I was pretty much that dumb when I was 26. I just didn't realize it until I hit 40.
RELATED POSTS:
1. The Attack Against Black Girl Beauty
2.  Go Denene! It's My Birthday!
3. Loving My Milkshake & My Pearls: A Celebration Of My Physical Self
Mom. NY Times bestselling author. Pop culture ninja. Unapologetic lover of shoes, bacon and babies. Nice with the verbs. Founder of the top black parenting website, MyBrownBaby.