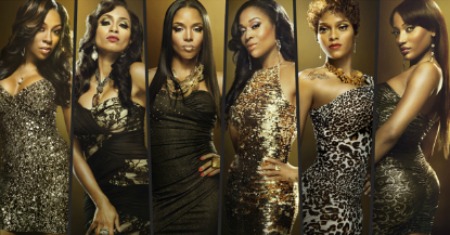 So yeah, a day after talking all that yang about the Dark Knight Rises shooting and how I refuse to take my kids to adult movies, I have this confession to make: I let my daughters, ages 13 and 10, watch Love & Hip Hop Atlanta, The Kardashians, The Real Housewives and a bunch of other messy, dead-wrong reality shows that litter our nation's TV channels.
I know, I know—this totally makes me a crap mom in your eyes, doesn't it? Like, what respectable mother raising girl children to be smart, respectable, decent, upstanding black women with a healthy dose of self-esteem, self-worth and self-respect, would ply her babies with the Pimps Up, Hoes Down scandal that is thick-tongued, stripper-turned-side piece Joseline Hernadez? Or the slash-and-burn, bullying ratchetness of Basketball Wives' Evelyn Lozada and Tammy Roman? Or the "We Don't Do Much Of Anything But Sleep With Black Guys and Collect Checks For Looking Pretty At Events" antics of the Kardashian clan? I raise my hand and admit it, right here, right now: every Sunday and Monday, Mari, Lila and I kick Nick out of the room, sit down with our popsicles and popcorn and totally fall into the abyss of the curse-filled, glass-tossing, misogynistic, hood rat antics that light up Twitter feeds from Atlanta to Compton, inspire "get it off our TVs, please!" blog posts and online petitions and generally leave a nation of black women feeling like both VH-1 and Bravo just hate our asses.
Please know: there is a method to my madness. I mean, I'm not going to lie—we are thoroughly entertained. But we're not watching these modern day soap operas simply for the fun of it. During the shows, I work the pause button on the DVR like nobody's business, stopping the action, sometimes mid-sentence, so that I can explain the ridiculousness, warn about the behavior and show my little ladies how to do it the right way.
When Basketball Wives' Evelyn tosses a bottle and jumps across a table to twist someone's neck, I'm telling my girls that under no circumstances is it ever okay to end an argument with fisticuffs. When Evelyn's castmate, Keisha, responds to Tami Roman's merciless bullying and theft of her purse by calling the authorities, I'm telling the girlpies, "Yes. Someone slaps you in your face? Takes your Louis? Don't give them time to give you directions on how to respond or stipulations on how to get your property back. Call the cops. Period." When Love & Hip Hop's Mimi Faust stands out in the parking lot, demanding manwhore Stevie J. not to get in the car with Jumpoff Joseline, I'm telling the babies, "Don't ever stand around letting a man humiliate you like that. If he's bold enough to wave the next girl in your face, he no longer gives a damn about you. Have enough respect for yourself to chuck up the deuces and get on with holding your head high, knowing you gave it your all but it's over." Basically, there's a whole lot of teaching going on in those hour-long bursts of tomfoolery—wicked shots of wisdom taken straight to the head.
Turns out, I might be on to something. A recent study published in the journal Sex Roles revealed that while two-thirds of a group of girls aged six to nine told researchers they want to look "sexy," their wholly inappropriate desires were not rooted solely in the mess they see on TV. Instead, the study said, it's "the interaction between media hours and maternal self-objectification that creates vulnerability for early sexualization." In other words, kids who were exposed to The Kardashians and had mamas who act like Kardashian knock-offs in the house were more likely to want to want to look like a sexy Kardashian. Other research, though, like those cited in this Salon article, took it a step further by suggesting that girls who are taught by their mothers to look critically at media and given an alternative narrative to what they're watching are more likely to survive the gauntlet of sexualized images and stereotypes fed to them at every turn and, in the process, learn to think a lot more critically about the music, television, movies, magazines and books they're consuming.
I'm convinced my girls are getting the lesson. Way better than I did when, after school and during summer vacation, I fell into the abyss that was All My Children and General Hospital—totally unchecked. Mommy worked during the day and Daddy slept during the day so he could work the overnight shift, so the TV was mine-all-mine and by age 11 or 12, cartoons totally took a backseat to the shenanigans of Laura and Luke and Erica Kane. You want to know confused? Consider how I processed the infamous "rape" scene between Luke and Laura—replete with sexy music and soft lighting and, a few episodes later, an intact relationship between the attacker and the attacked. Right.
Of course, I waited quite a while before I exposed my girls to this madness. Up until this summer, they weren't even allowed to listen to black radio, watch BET, go on YouTube or download music and videos to their iPods without my express approval. All of it was simply too grown for the girlpies and I figured they were much more safe watching Nickelodeon and Disney and taking in my pre-made, mom-approved music mixes. But I've raised my daughters well; their critical ears are well tuned. Not pitch perfect; they are, after all, still children. But with my guidance, they're getting there.
Criticism notwithstanding, I'll keep letting my girls watch the shenanigans on Love & Hip Hop Atlanta, The Kardashians and The Real Housewives—remote in hand, pause button on my trigger finger, conversation at the ready. The lessons are there, laid out in technicolor—lessons on friendship, relationships, motherhood, conflict and conflict resolution, business acumen, mother-daughter bonding, beauty, self-esteem, self-worth. And I don't want my girls to miss one, single episode. Because really, they're worth it.
1. Can't Touch This: We're Too Bougie For BET
2. Stilettos and 10-Year-olds: A Dad Says, "Aw, Hell To the Nah!" "
3. For Tweens, Sexual Images Can Be Overwhelming and Harmful 
4. The Attack Against Black Girl Beauty
Mom. NY Times bestselling author. Pop culture ninja. Unapologetic lover of shoes, bacon and babies. Nice with the verbs. Founder of the top black parenting website, MyBrownBaby.