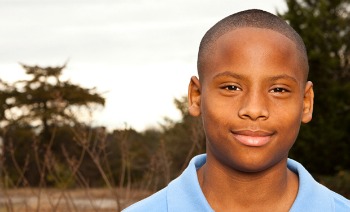 BY NICK CHILES
The plight of young black boys has always been of special interest to me. Having raised one black boy into manhood and written numerous articles about the topic over the years, not to mention several books that spend substantial time delving into the issues that affect young boys—such as "Fatherhood: Rising to the Ultimate Challenge," which I wrote with NBA veteran Etan Thomas and which came out this past June—I have been paying close attention to any efforts to study black boys and also to direct resources at their problems.
That's why I'm so giddy about the work my good friend Shawn Dove has been doing at the Campaign for Black Male Achievement, an initiative started in 2008 by billionaire George Soros and the Open Society Institute to funnel crucial resources to programs around the country that are toiling on behalf of black boys. This is a huge week for Shawn and the Campaign for Black Male Achievement because they are intimately involved with two vital—and hopeful!—reports on black boys that have just been released.
One of the reports, "Challenging the Status Quo," also partially commissioned by the Congressional Black Caucus, shows that there are many incorrect myths about the status of black men in the U.S. that act to perpetuate negative stereotypes about this population.
The other report, "Where Do We Go From Here?," produced by the Foundation Center and commissioned by the Campaign for Black Male Achievement, shows that the amount of foundation funding directed at solving the problems of young black males has been steadily rising and has begun to make an impact in cities across the country, but much more of a sustained funding structure needs to be established.
In the intro to "Where Do We Go From Here?", Dove, manager of the Campaign for Black Male Achievement, said it is essential for the nation to direct resources at black males because they are "canaries in a coal mine," showing the country the problems the rest of the population will soon be experiencing. We have seen this over and over with so many issues—after the problem ails black men and the black community, it soon spreads to everybody else. A recent case in point: the problem of fatherless households, which is now becoming endemic in the white community.
"We do not want a future America where all of our families, regardless of race, suffer high rates of incarceration, homicide, high school dropout, and unemployment," Dove said. "This is why philanthropic investments in strategies to address the myriad challenges confronting black males will help 'to lift all boats' for underserved, vulnerable, and marginalized people, ensuring a brighter, stronger, and more equal and open society for us all."
By far the most illuminating statistic in the "Challenging the Status Quo" report is the conclusion that black men are NOT underrepresented in the nation's colleges. Black males make up 5.5 percent of all college students age 18 and over, which is proportional to the adult black male population in the United States, according to the report, written by Howard University education professor Ivory Toldson and University of North Carolina-Charlotte education professor Chance Lewis.
The authors say the myth that black males aren't interested in education can be extremely damaging, as it leads teachers and counselors to direct them toward less rigorous academic pursuits, such as community colleges—which have notoriously lower completion rates because of the lack of resources directed toward the student body. It also means teachers are less likely to give black boys the benefit of the doubt when they mess up. If I'm a teacher and I think kid A is headed to a top-notch four-year college and kid B is headed to jail, I'm more likely to cut kid A some slack when he does something stupid. For too many teachers, kid A is rarely the black boys in the class.
"The idea that black males are completely disaffected and beyond any reasonable efforts to remediate is an attitude that we frequently encounter when we train school leaders and educational administrators," the authors wrote. "The cynicism and apathy among people who work with black boys are far more threatening to our future than the black male issues so ominously dramatized in the media."
In "Where Do We Go From Here?" the researchers found that annual funding designated for black males has been rising steadily, from $10 million in 2003 to $29 million in 2010. Education is the top funding priority, garnering 40 percent of the grant dollars between 2008 and 2010, while California, New York and Georgia are the top three states receiving foundation money explicitly designated for black males.
All of this stuff has been made possible by the passion and money of billionaire George Soros. Soros, 82, is a Hungarian-born investment titan who has given away $8 billion of his money since 1979, mostly to liberal and education-related causes. In addition to directing the resources of the Open Society Institute toward black males, Soros also joined together with New York City mayor Michael Bloomberg last year to each donate $30 million to address the problems of black and Latino men in New York City. In "Where Do We Go From Here?" Soros gave us a small window into his thinking and what is motivating him to focus so many resources on black males. In the report, he listed many of the alarming statistics related to black males in New York—50 percent don't finish high school; poverty rate 50 percent higher and unemployment rate 60 percent higher than white and Asian males; seven times more like to have an incarcerated parent; 30 percent caught up in criminal justice system. Then he said, "This squandering of human capital is a disgrace."
"New generations of African American boys and young men need not become such statistics," he said in the report. "With rigorous academic instruction, so many of them can master so much. They need pre-school and afterschool programs. High school boys and junior college young men need internships to expand their assumptions about the realm of the possible in terms of the future—and their future careers. They need mentors and counselors who will prepare some for college and the professions, while helping others to develop marketable skills that will lead, after graduation, to satisfying, well-paying jobs."
Soros is excited about the success he has seen in Baltimore improving the outcomes for black males using resources provided by the Open Society Institute. He wants to see that success spread—and he wants to push other extremely rich philanthropists and foundations to devote more resources to black males to "reverse the serious damage inflicted over many years of systemic injustice."
"This is a generational problem. It demands a longterm commitment," Soros said.
As we watch many of the nation's millionaires and billionaires fulminate over President Obama's desire to see them pay more taxes, I dream about how different this country—indeed, the entire planet—would be if more of the one percent were even remotely made of the same stuff as George Soros.
Deep sigh. I know, keep dreaming.
RELATED POSTS:
1. Welcome to "Fatherhood" Week on MyBrownBaby!
2. A Special MyBrownBaby Love Letter To Black Fathers Getting It Right
3. Black Boys in Detroit School Stage Walk Out to Protest Their Bad Education
Mom. NY Times bestselling author. Pop culture ninja. Unapologetic lover of shoes, bacon and babies. Nice with the verbs. Founder of the top black parenting website, MyBrownBaby.