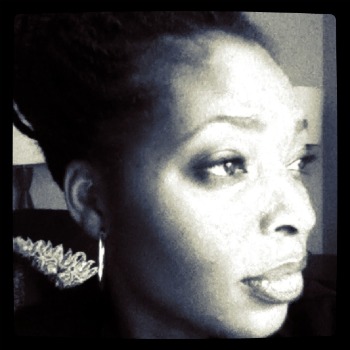 The thing of it is, I've had natural hair for about 12 years now—years before Shea Moisture and Miss Jessie's found a home on Target's shelves, long before YouTube birthed a nation of natural hair stars, eons before Solange became the patron saint of afros and anyone thought kinks cute, fashionable and manageable. I remember the groans I'd get when I walked into hair salons full of stylists who specialized in fried, dyed and laid to the side. All of them were blacker than me, but none of them knew thing one about how to wash, dry and style black girl curls. I remember, too, the evil eyes I'd catch from sisters and brothers at work; you would have thought my choice to wear my hair the way it grew out of my head put their jobs in jeopardy.
Basically, I'm a natural girl from way back; wearing my hair in afros and Bantu knots and twist-outs and cornrows is not some trend for me. I did daily battle in my quest to wear my kinky hair. My scars tell that story.
And though, all these years later, we are at a place in time where we can finally look across a room full of black folk and see just as many sisters fiercely rocking natural hair as we can those fiercely rocking relaxed tresses and weaves, we've still got some serious work to do. Not everybody is up on the natural hair protocol.
Case in point: this weekend, while I was out at a function enjoying the fruits of a bountiful buffet, out of nowhere, a woman—old enough and black enough to know better—reached her gnarled fingers deep into my afro and announced with much gusto and might: "I just love all this nappy hair."
Dead Fish Eyes.
"I know I'm not supposed to be touching your hair like this, but…" she continued, her fingers picking at my hair as I stood, immobilized. Mute.
My entire body stiffened. My eyes temporarily crossed with rage. It was everything for me not to grab hold of her wrist and snap off her offending hand. I was two seconds off recreating that scene in The Color Purple—the one where Ms. Sophia cusses the white woman for suggesting her babies were cute enough to be her maids.
Alas, I did no such thing. She was, after all, an old black lady. You don't cuss them out. You don't slap them. You don't sassmouth them or correct. You say, "Thank you," and let them be.
At least that's how Bettye Millner raised me.
But what I really wanted to tell her was that calling my hair "nappy" and touching me the way she did was offensive. As racially charged as some Confederate flag waving red neck calling me a "nigger." Except worse. Because from the red neck, I expect that kind of talk. Not so much from the lips of an old black woman, chocolate, gray-haired with locs.
Maybe, like the white woman in The Color Purple, she meant well. Had good intentions. But really, what she did in just a matter of moments was seriously fray 12 years of pride—unearth generations of pain that black people have unleashed on their children and their children's children and their nieces and nephews and child charges for just… being.
Her utterance of that one word—that one backward compliment—took me right back to my days as a child when I was warned to stay out of the sun and the pool, lest I get blacker, and told to stop eating so much, less my ass and hips get bigger. It reminded me of how I was encouraged to break the rules and get that relaxer every four weeks instead of the recommended six, because my hair was too thick and unmanageable and "nobody needs to see all those naps on your roots." That woman's backhanded compliment brought me right back to the day I stopped talking to my brother for three months after he teased my baby for having "nappy, nappy, nappy hair."
To me, saying such things is akin to black-on-black crime.
It is an insult.
And painful.
And when it comes from an old black woman, it's as if she's looking deep down into you—into your soul. Like she's judging my grandmother for raising my mother to raise a daughter who would walk out of the house looking like that. And there's nothing you can do about it because, well, who checks old black women?
Nobody.
I guess at 12 years in, with all the natural hair rah-rah going on, I thought we'd evolved.
Clearly, we have not.
And that is the shame of it all.
RELATED POSTS:
1. The Joys (And Pains!) Of Kinky Black Girl Hair
2. The Attack Against Black Girl Beauty
3. A Beautiful Black Girl Finally Says, "I Love My Hair!" 
4. Little Black Girls With Natural Hair: Lessons On Touching, Rocking and Loving Kinks & Curls
5. WTF: Mom Straightens 4-Month-Old Black Baby's Hair—She Is Decidedly NOT Happy Her Girl Is Nappy
Mom. NY Times bestselling author. Pop culture ninja. Unapologetic lover of shoes, bacon and babies. Nice with the verbs. Founder of the top black parenting website, MyBrownBaby.